An update on the Foreign & Commonwealth Office consular effort in Japan this weekend.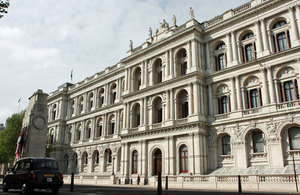 Transport
Buses from Sendai to Tokyo
The British Embassy has now operated six buses from Sendai to Tokyo. They have carried 66 British Nationals, 16 dependents and 33 people of other nationalities. Our Ambassador and consular staff have welcomed passengers on arrival in Tokyo and helped British nationals with onward travel arrangements.
Based on demand, we do not planning any further coaches.
Flights
Commercial flights continue to operate to and from Japan. British nationals with commercial flight bookings should continue to use these flights and continue to make reservations and other arrangements with airlines as usual.
A fourth flight - Cathay Pacific flight (CX2509) left Tokyo Narita at 2150 local time on Sunday 20 March. It is due to arrive in Hong Kong at 18.00 GMT.
Based on the numbers of British nationals who have contacted us expressing interest so far, we are confident that arrangements we have already made, and options we have open to pursue are sufficient.
Consular assistance in Hong Kong
The British Consulate in Hong Kong has established a reception centre at the airport to greet British nationals when they arrive and offer assistance. The team will help British nationals with onward flights, overnight accommodation if required and will ensure they are able to make phone calls to friends and family.
For those British nationals and their immediate families directly affected by the tsunami, there will be no charge for onward flights to the UK or accommodation. The team will also be able to provide financial support for people who need essentials such as food and clothing.
Consular presence in Japan
We are providing assistance at three locations in Japan: Niigata, Tokyo and at our Consulate in Osaka.
A total of 45 additional staff are now in Tokyo, and 5 in other locations in Japan.
Our team in north east Japan has assisted more than 170 British nationals.
Embassy response teams are at Tokyo's Narita airport assisting British nationals and liaising with airlines. The British Consulate-General is also providing consular assistance at its office and Kansai International airport. The British Embassy in Tokyo has extended its opening hours.
Travel advice
The Foreign & Commonwealth Office updated its travel advice to Japan yesterday. It now includes specific advice for British nationals who wish to remain Tokyo and north of Tokyo, as follows:
We are issuing this advice as a precaution.
The following advice contains information on what action you should take if radiation levels increase in any significant way. A significant increase in the radiation levels in Tokyo, well outside the exclusion zone, would only occur in a worst case scenario. We continue to monitor the situation and you should consult the FCO travel advice for further updates.
There are a number of ways in which you can protect yourself from increased levels of radiation, for example by taking shelter, following advice provided by below and by the Japanese Authorities onwater and food or, in certain circumstances, taking stable (non-radioactive) iodine.
Stable iodine
The British Embassy is distributing iodine tablets as a contingency measure. Scientific advice is that the tablets should not be taken in the current situation. Iodine tablets have been distributed to around 540 British nationals.
You will be issued with sufficient stable iodine for two doses. There are detailed dosage instructions and other information in the package insert. There is also information about stable iodine on the Health Protection Agency website.
Tablets should be taken when: The UK Government advises to do so; the Japanese authorities advises people to do so; the Japanese authorities advise people to take shelter.
The dose of stable iodine is the same no matter how much radioactive iodine is in the environment. One dose lasts 24 hours.
Stable iodine in tablet form (potassium iodate) is used to stop the body from absorbing radioactive iodine that has been inhaled or otherwise taken into the body.
Stable iodine is only effective in preventing radiation doses from radioactive iodine. It is not effective against other types of radiation. It is important to keep sheltering as well and take the other precautions in this advice.
Children are much more at risk than adults from radioactive iodine. We are therefore giving priority to the distribution of iodine to children under 18 and pregnant or breastfeeding women.
Children under 18 and pregnant or breastfeeding women may wish to take stable iodine if sheltering is ordered in your neighbourhood, as a precautionary measure.
It is best administered shortly (1-2) hours before or after exposure but is still effective, though less so, up to six hours after exposure. Experience has shown that it is a very safe medication.
Water and food
All food stored inside the home since sheltering was advised, in the home, shops or other buildings will be safe. Foods that are well packaged (e.g. in tins, cartons or bottles including bottled water) will be safe, even if carried outside while sheltering is advised.
As a precautionary measure, avoid foods that may have been outdoors in the affected areas such as crops in fields, gardens or allotments or sold loose in outdoor markets, and also fish and shellfish from the affected area.
Avoid milk that comes from an affected area, imported milk products will be safe.
Where to obtain iodine tablets
We are distributing the tablets to British nationals and their dependents, with priority being given to children and pregnant or breastfeeding women. You can obtain the tablets at the following locations in Tokyo and Niigata. Please bring with you proof of British citizenship and proof of age of any dependents.
Tokyo
When 19-22 March, 1400-19-00.
Where: Grand Arc Hanzomon Hotel, 1-1 Hayabusa Cho, Chiyoda-ku, Tokyo 102-0092. Distribution room: Nocturn (5F). Waiting Room: Symphony (5F).
http://www.grandarc.com/english/index.html
Niigata
When: 20-21 March, 1400-1700.
Where: Chisun Hotel & Conference Centre Niigata, 1-1 Sasaguchi, Chuo-ku, Niigata-shi 950-0911
http://www.solarehotels.com/english/chisun/hotel-niigata/guestroom/detail.html
Keeping in touch
Keep listening to local media for real time information and monitoring FCO travel advice for further updates.
You can use the following social media channels to keep up to date with the latest travel advice:
Twitter
Published 20 March 2011