Japan earthquake: Foreign Office update
The latest Foreign Office update on our consular effort in Japan to assist British nationals.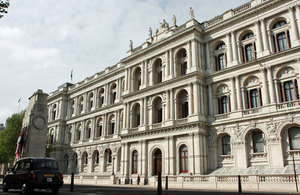 Staff at the British Embassy in Tokyo marked today's one week anniversary of the earthquake with a minute's silence.
Buses from Sendai to Tokyo
On Thursday 17 March, the British Embassy chartered two buses from Sendai to Tokyo, carrying 55 passengers, including 24 British nationals and 9 dependents. Both buses arrived in Tokyo at 0200 local time on Friday 18 March. They were met by the British Ambassador David Warren and a team of consular staff. The team are now providing consular assistance and support with arrangements for onward travel.
On Friday 18 March, two buses operated by the British Embassy departed Sendai for Tokyo at 1200 local time. They were carrying 32 passengers, including 24 British nationals and 5 dependents. They are expected to arrive in Tokyo approximately 0200 local time on Saturday 19 March.
We will operate two further coaches from Sendai to Tokyo on Saturday 19 March. They will depart at 1200 local time and are expected to arrive at 0200 local time on Sunday 20 March. There will be no charge for this service. Based on demand, we do not plan to run any more coaches after 19 March.
People can register by contacting our consular team at the British Embassy in Tokyo on (+81) 80 3250 2924 or (+81) 35 211 1356 if calling from the UK, or 080 3250 2924 or 035 211 1356 if calling within Japan.

Relatives or friends may also register you on your behalf. If you have difficulties contacting these numbers, please call our emergency hotline in London on 020 7008 0000 or email japan.earthquake@fco.gov.uk.
Charter flights
The first option for leaving Japan should remain commercial routes. Commercial flights continue to operate to and from Japan.
We have secured a number of flight options for British nationals who are unable to secure places on commercial flights. These include seats on commercial planes that we have block booked, and charter flights. They will all leave from Tokyo Narita airport and fly to Hong Kong.
For those British nationals and their immediate families directly affected by the tsunami there will be no charge. For British nationals and immediate families who were not directly affected by the tsunami, and who want to make use of this option, there will be a charge of £600 per person, comparable to commercial flight options.
The flight options depart on Saturday 19 March and Sunday 20 March.
There are two British Government chartered flights planned to fly from Tokyo to Hong Kong on Saturday 19 March. The first is due to depart in the morning local time and the other in the evening. Exact departure times are to be confirmed.
There may be an additional Cathy Pacific Flight due to depart on Sunday 20 March, departing from Tokyo airport to Hong Kong. Expected time of Departure is 2055 (local time). Expected time of Arrival is 0105. This flight is yet to be confirmed.
We encourage all British nationals who wish to book seats to contact us on 44 20 7008 6900. We will confirm flight details with them.
Excluding the 44 British nationals and their dependents who have flown out of Japan on the Cathay Pacific flight (CX2505), we have had 101 expressions of interest in further flight options.
Based on numbers of BNs who have contacted us expressing interest in this option so far, we are confident that arrangements we have already made, and options we have open to pursue, are sufficient.
Consular assistance in Hong Kong
The British Consulate in Hong Kong has established a reception centre at the airport to greet British nationals when they arrive and offer assistance. The team will help British nationals with onward flights, overnight accommodation if required and will ensure they are able to make phone calls to friends and family.
For those British nationals and their immediate families directly affected by the tsunami, there will be no charge for onward flights to the UK or accommodation. The team will also be able to provide financial support for people who need essentials such as food and clothing.
Consular presence in Japan
We are providing assistance at three locations in Japan: Sendai, Tokyo and at our Consulate in Osaka.
A total of 41 additional staff are now in Tokyo, and 51 additional staff in Japan. We are sending a further specialist team to Tokyo, as well as other staff, including Japanese speakers.
A team of specialist consular staff (10 altogether) are in northeast Japan to provide consular assistance and help locate British nationals. They have established a 24 hour Consular Response Centre in Sendai, and have been visiting reception centres, hospitals and locations affected by the earthquake and tsunami.
Our team in north east Japan has assisted more than 170 British nationals.
Embassy response teams are at Tokyo's Narita airport assisting British nationals and liaising with airlines. The British Embassy in Tokyo has extended its opening hours.
Travel advice
We continue to advise against all non essential travel to Tokyo and north eastern Japan. Due to the evolving situation at the Fukushima nuclear facility and potential disruptions to the supply of goods, transport, communications, power and other infrastructure, British nationals currently in Tokyo and to the north of Tokyo should consider leaving the area.
As an additional precautionary measure, British nationals are advised to remain outside an 80km radius of the Fukushima nuclear facility. This is in line with the advice issued by the US Government to its citizens. The most recent advice from the UK's Chief Scientific Adviser remains that for those outside the exclusion zone set up by the Japanese authorities there is currently no real human health issue that people should be concerned about. Our Travel advice for Japan is kept under constant review.
The Scientific Advisory Group in Emergencies (SAGE), chaired by the Chief Scientific Adviser, has been examining possible worst case scenarios. Even in these worst cases, it considers that the risks to human health beyond a radius of 80km from the Fukushima nuclear power plant could be managed by precautionary measures, in particular staying indoors to avoid exposure.
Published 18 March 2011