It's time to test: change your clock, test your smoke alarm
A new hard-hitting advertising campaign is urging people to make a potentially life-saving move when they change their clocks on the weekend…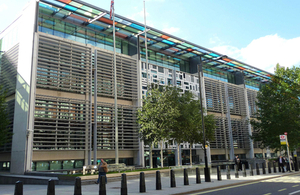 A new hard-hitting advertising campaign is urging people to make a potentially life-saving move when they change their clocks on the weekend of 29/30 October - by taking a moment to test their smoke alarm too.
The twice-yearly clock change is a task that everybody takes for granted. Turning the clocks back for an extra hour in bed will already be on the 'to-do' list for the majority of British households over the clock change weekend.
While timekeeping is a vital part of our lives and we all keep our clocks working to stay on track, it's shocking to know that many people forget to ensure the safety of themselves and their loved ones by keeping their smoke alarm in the same working order.
A working smoke alarm can buy you valuable time to get out, stay out and call 999. But only half of all householders who own a smoke alarm say that they test it's working on a regular basis.
You're more than four times as likely to die in a fire if your smoke alarm is not working. So it's clear that the simple act of testing your alarm is a vital part of any household routine.
In 2010-11, there were over 36,000 accidental fires in the home, resulting in 246 fatalities and more than 7,000 casualties. The Fire Kills Campaign hopes that by adding this simple smoke alarm check to people's clock-change routine, many more lives will be saved.
Fire Minister Bob Neill said:
Everyone soon notices when a clock stops ticking, but it's more difficult to be sure that your smoke alarm is still in working order. The only way to make sure is through regular testing.

When the campaign began in 1988 only 9 per cent of homes had a smoke alarm - now that figure is 86 per cent. But having a smoke alarm is not enough - it must be kept in working order to save your life.

The number of fire deaths in homes has halved since 1988 but if everyone takes time to test their alarm regularly we can make sure they don't go up again.

We're all looking forward to getting that extra hour's sleep as British Summer Time comes to an end. Knowing that your smoke alarm is in working order will help you sleep that little bit better.
The Government's Chief Fire and Rescue Adviser Sir Ken Knight said:
You're more than four times as likely to die in a fire without a working smoke alarm. But despite the fact that nearly 250 people died in house fires last year, only half of the people who own an alarm say they take the time to check that it's working.

A smoke alarm can give you the vital time you need to get out, stay out and call 999 in a house fire. As you put your clocks back on 29 or 30 October take an extra moment to push the button on your alarm to make sure it is working properly - it could save your life.
Listen out for radio and press adverts supporting the Change your clocks, Test your smoke alarm campaign and find out more on the Fire Kills Facebook page (www.facebook.com/firekills).
An online video has also been released showing a mantelpiece clock melting in the heat of a house fire - bringing home the harsh reality of the consequences of a fire in the home. See it at http://bit.ly/firekillsclock (external link).
Help keep yourself and your loved ones safe in the home by following these simple steps:
A working smoke alarm can buy you valuable time to get out, stay out and call 999. Make sure you fit one on every level of your home and test them regularly.

Make testing your smoke alarm part of your household routine. Check the alarm by pressing the button regularly; change your battery once a year or invest in a 10-year alarm; and clean the alarm casing twice a year to ensure dust doesn't block the sensor.

Whatever happens, never remove the battery in your smoke alarm.

Make sure that everyone in your home knows what to do in a fire and practise your escape route.

For more information visit the Fire Kills campaign's Facebook page at facebook.com/firekills (external link).
If you want an extra nudge to test your smoke alarm regularly, try setting an automatic reminder. Safelincs, in partnership with the Fire Kills, has created a free service that reminds you, by email or text, when it's time to test your smoke alarm, change the battery or renew the unit. The service is completely free and can be cancelled at any time (www.safelincs.co.uk/reminders) (external link).
Notes to editors
1. British Summer Time (BST) ends on the last Sunday in October. This year the clocks go back at 2.00 am BST on 30 October to 1.00 am GMT.
2. Fire statistics can be found on the DCLG website at www.communities.gov.uk/publications/corporate/statistics/monitorq1q42011.
Twitter
Keep up to date with the Department by following us on Twitter (external link).
Media enquiries
Visit our newsroom contacts page for media enquiry contact details.
Published 17 October 2011