Press release
'It's a dream job' – the road workers who toil while you sleep
• Majority of Highways England's roadworks in West Midlands are done overnight • Almost 1 million hours worked overnight in last 12 months alone • We've laid enough new surface to create a road from London to Manchester and back
This news article was withdrawn on
This document is no longer current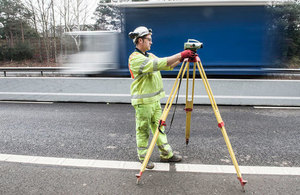 As the clocks go back and dark nights loom, Highways England is hoping to shed some light on the way it works in the West Midlands.
A small army of staff from Highways England and our contractors work around the clock to keep our major motorways and A-roads flowing.
Since 2014, our contractor Kier has overseen a total of 1.7 million hours of work in the West Midlands – with more than 700,000 of those worked overnight.
In that time, while most drivers were asleep, we've laid 435 miles of new surface - enough to create a new road from London to Manchester and back. And we've painted almost 600 miles of white lines: which would cover the distance from Warwick to John O'Groats.
On top of that, we've worked on 113 miles of drainage by the roadside, and we've replaced 388 bridge joints on important structures.
Now a video has been produced, giving a flavour of some of the overnight work carried out by Highways England.
With £1.8 billion to invest in roads across the Midlands in the next 5 years, and lots of activity planned to deliver huge improvements to journeys across the region, Highways England is hoping to help drivers to better understand why we work at night.
Highways England's Midlands Regional Director, Tim Harbot, explained:
There are hundreds of staff working for Highways England through the night in the Midlands to help meet the challenge of running some of the busiest motorways in the country.

This invisible army of road workers, traffic officers and control centre staff work through the darkness to deal with incidents, repairs and maintenance. Their dedication helps to keep drivers moving throughout the Midlands.
Road worker Richard Phillips, 28, from Bromsgrove, has been working nights on the roads in the Midlands for the past eight years.
They are anti-social hours, but I love my job," Richard said. "I have a fiancée and two young kids, so working nights all the time does affect my social life.

I'm lucky, in that my partner is excellent and really understanding. Sometimes, I get home and just need to sleep for eight hours or so, and she's always fine with that.

My other mates aren't so sympathetic. I get a lot of stick. Quite a few of them play rugby, and drive to games around the country. Whenever I say my back aches or something, they're always like "Why? You don't do any work!" They've got no sympathy. I do have to tell them that most of our work happens at night – very few people seem to understand just how much we do every night.
Richard understands that working through the night means his work often goes unnoticed.
I don't mind that," he said. "I take a lot of pride in my work, I've been to college, I've done the qualifications. I always want to do the best job, and we're always really gutted if a night shift doesn't go to plan.
We work with a really good team here, and everyone pulls together when we need to: there's a lot of commitment to getting a good job done, even when things go wrong. Most jobs, we aim to be finished by about 3am, as you start to see the tidal flow of lorries at 4am, 5am, and they're always making long journeys. We try to get done and off before the traffic gets busy again.

A lot of what we do has time constraints. If it looks like work's going to over-run, there's a real team spirit here. It may be that your crew is back in the yard, filling sandbags or doing something there, and we hear that a team has had problems – we drop what we're doing and get out there to help.

Our whole team is totally dedicated to the highways, and working at night lets us get a lot of work done, safely, without affecting busy traffic. It's a way of life, but it's a good job and it's worth it.

It's a big commitment, you have to be ready, whatever the time." - Steve Yates, gritter driver, Kier Steve Yates, 55, from Coleshill, has been working on the roads for 11 years.

A typical night depends on what work we're doing: we do litter picking - there's always a lot of litter on the motorway - we do daily repairs, potholes, resurfacing jobs, emergency jobs," Steve explained. "If there's an accident, and there's fire damage or a diesel spill, we have to put out a closure for that and help manage the work to repair the road.

We do a lot of fixing barrier damage – the concrete barrier in the middle reserve. We go out and put on the closure, and if there's good enough light, we'll get other jobs done, like clearing vegetation or picking litter.

A lot of routine tasks are harder to complete in winter: with wet weather making it difficult to get concrete or road surfacing to set and be safe in time for the morning peak.
As a result, many staff from our Coleshill depot go out in gritters instead.
In the winter, the roads aren't the best place to be. There's lots of spray, it's cold and rainy and there's ice. Winter's definitely the worst time to be out on the road during the night," Steve said.

It's not as big an issue for me, as I'm on call 24/7 for the gritting service.

It's a big commitment, especially at weekends, you have to be ready whatever the time. I've been called out at 3am, 4am. I've been called out to do a treatment at 2am then back again for 5am.

I don't much like being out there in the winter, when it's cold and raining, but it can't be helped. It's a very important job and the team here are all totally committed. You've got to be.
Highways England currently has scores of roadworks schemes on the ground in the Midlands which utilise overnight shifts.
But our commitment to night working doesn't end with roadworks. Our customer contact centre is staffed around the clock – so anyone can call to get the latest information on their journey, at any time. And our Traffic England website gives drivers live traffic information, no matter the time or day.
Our traffic officers patrol motorways around the Midlands through the day and night – and are there to help deal with incidents and keep traffic moving.
Our regional control centre, based at Quinton, has staff monitoring CCTV screens 24//7, and we provide traffic updates to drivers via our website and Twitter feeds, and keep traffic information services up to speed with the state of our network.
For the latest traffic information, you can visit www.trafficengland.com or follow one of Highways England's Twitter feeds (@HighwaysWMids for the West Midlands) for the latest updates.
The Highways England customer contact centre is also available 24/7, 365 days a year. You can get traffic information and enquire about our work by calling 0300 123 5000.
General enquiries
Members of the public should contact the Highways England customer contact centre on 0300 123 5000.
Media enquiries
Journalists should contact the Highways England press office on 0844 693 1448 and use the menu to speak to the most appropriate press officer.
Published 29 October 2015