World news story
Israel's exciting Fintech startups to pursue business collaboration in the UK
This was published under the 2010 to 2015 Conservative and Liberal Democrat coalition government
UK Israel Tech Hub to feature 15 selected startups in London in March on a delegation accompanied by Haim Shani and Avi Zeevi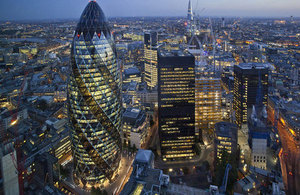 Fifteen promising Israeli financial technologies startups entered the 2015 TeXchange Fintech challenge, the UK Israel Tech Hub at the British Embassy in Israel announced today. The winners, aiming to transform the banking sector, will showcase their innovation to leaders of the finance sector during a tailored visit to London next month.
What is TeXchange?
TeXchange – the UK Israel Tech Exchange Programme – is an annual flagship programme of the hub, a team at the British Embassy Israel which promotes technology partnerships between the 2 countries. Each year, up to 15 innovative Israeli startups in a sector with high potential for UK- Israel collaboration are selected to travel to the UK on a targeted business delegation. They are introduced to potential strategic partners, customers and investors and offered networking opportunities with business leaders, startups and government officials, in Europe's financial centre and fastest growing tech cluster.
The 2015 TeXchange theme is Financial Technologies (Fintech), an area where both countries have a cutting edge advantage. TeXchange Fintech 2015 was organised in partnership with Carmel Ventures, a leading VC firm with FinTech expertise, among other sectors. The 15 winners were carefully selected from a pool of around 45 applicant companies.
Winning companies
The winning companies are:
online/mobile banking platforms – BondIT/ finnovest/ Personetics/ Morovus/ CallVU
cyber security and anti fraud – BioCatch / Nation-E/ EverCompliant
payment solutions - PayItSimple
big-data analytics and predictive modelling - SQream Technologies/G-STAT Software Solutions/ ThetaRay/ Clarisite Ltd.
middle and back office solutions for Financial service providers Coin Sciences Ltd
risk management and Innovation relating to regulatory compliance AU10TIX
London visit
The delegation will visit London between 2 and 5 March and showcase its innovative technology to senior executives at leading banks and financial institutions. It will also take part in exclusive networking opportunities with UK businesses and technology counterparts. The delegation will be led by Haim Shani, the Hub's Chairman and General Partner at Israel Growth Partners; and joined by Avi Zeevi, General Partner and co-founder of Carmel Ventures and a veteran FinTech entrepreneur and investor.
Avi Cohen of the UK Israel Tech Hub said:
"We are excited to bring 15 companies representing Israel's finest Fintech ventures to Europe's largest banking centre and particularly to London - a leading global Fintech hub.
There are massive commercial opportunities for the winners of TeXchange 2015 to grow through partnering with the UK's financial sector. The UK Israel Tech Hub is proud to create the platform for those partnerships."
Previous programmes
The past 2 TeXchange programmes have led to numerous business and technology partnerships between British and Israeli companies. For example, a partnership between major British online retailer Shop Direct and Israeli company Cimagine. The TeXchange Fintech is expected 2015 to result in more similar partnerships, accelerating economic growth for both countries.
Follow us on Twitter: @ukisraelhub
Document information
Published: 10 February 2015