World news story
Israeli digital health mission meets UK innovators
Israeli tech mission meets UK healthcare innovators to pursue cutting-edge collaboration in Digital Health.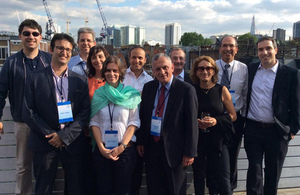 Entrepreneurs from Israel's booming Digital Health sector visited the UK this week, giving decision-makers and industry leaders access to cutting-edge technologies that may improve patients' lives and reduce healthcare costs.
The delegation, organised by the UK Israel Tech Hub and Start-Up Nation Central, comprised of top digital health industry experts, investors and entrepreneurs who participated in events in London and Manchester.
The entrepreneurs presented developments such as smartphone cameras that turn into powerful medical devices; smart wearables to manage family health; crowdsourcing patient support platform; systems that teach computers to provide decision support and imaging diagnosis; personalised patient videos for clearer medical information; and real-time prevention of prescription errors, using data-driven approach.
Israel is an emerging leader in digital health with 100% of its physicians using advanced electronic medical records' (EMR), decades of experience in implementing health information technology, and over 200 digital health start-ups and R&D centres of prominent international healthcare companies. Israeli men are ranked fourth in the world in life expectancy, while total expenditure on healthcare is among the lowest in OECD countries.
The UK is at the centre of digital health growth and is currently the largest EU spender on tele-health and tele-care, with numerous e-health initiatives. In recent years, the UK has offered unprecedented opportunities for multinational research and commercial collaborations in the healthcare field.
John Jeans, the British government's MedTech Champion, said after moderating a digital health innovation discussion with the delegation: "Our healthcare system can stay ahead of the curve by adopting technologies that use apps, smartphones and cloud-computing. The ideas of Israeli entrepreneurs can definitely contribute to that".
Dr. Iris Geffen Gloor, Biomed Manager at the UK Israel Tech Hub, said: "Digital health is a multi-billion dollar industry. By connecting British and Israeli innovators we can ensure patients from both countries get access to the best medical technology available. The UK Israel Tech Hub is actively connecting innovation from both sides".
Inbal Arieli, VP for Strategic Partnerships for Start-Up Nation Central, added: "The opportunity to bring some of the top leaders in Israel's digital health sector to meet their counterparts in the UK is tremendous. We are confident that together they will find ways to collaborate that will bring high impact to both ecosystems."
The organisers:
Start-Up Nation Central is an Israel-based non-profit, inspired by the best-selling book, Start Up Nation, which is dedicated to matching the problems of business and government leaders with the people and technologies that can solve them. Through dynamic, customized, hands-on visits to Israel, Start-Up Nation Central helps entrepreneurs, corporate leaders and government officials explore solutions and opportunities with the country's best minds.
The UK Israel Tech Hub at the British Embassy Israel helps drive economic growth in both countries by helping British companies partner with the best of Israeli innovation. The goal is to create partnerships in which British companies help Israeli innovation go global, and Israeli innovation gives British companies a global competitive edge.
The participants:
Benny Zeevi, MD, Managing General Partner in DFJ Tel Aviv Venture Partners, Co-Chairperson of Israel Advanced Technology Industries (IATI)
Yonatan Adiri, Founder and CEO, Healthy.io – a company delivering healthcare innovation by turning everyday smartphone cameras into powerful medical devices
Eyal Gura, Co-Founder and CEO, Zebra-Med. Using the largest clinically diagnosed dataset, cutting edge computing and a community of researchers and scientists, Zebra teaches computers to provide decision support and imaging diagnosis at scale.
Yishai Knobel, Co-Founder & CEO of HelpAround, Founder, Health 2.0 Israel. HelpAround.co is a contextual patient support platform that empowers patient organizations to provide local peer support and real time guidance tailored to each patient's specific context.
Gidi Stein, MD, Co-Founder and CEO, MedAware. MedAware has developed an innovative patent pending technology leveraging a data-driven knowledge base that describes how patients are treated by their physicians in different clinical scenarios. A patient safety tool, based on this knowledge base, flags potential prescription errors.
Dr. Rami Cohen, Founder and CEO, Telesofia Medical. Telesofia enables patient education and engagement with personalised patient videos, accessible on any device.
Gill Zaphrir, Partner at Veritas Venture Partners, one of Israel's most experienced venture capital firms that invests primarily in technology-based companies.
Published 24 June 2015