News story
Islay Trader report published
Grounding of a general cargo vessel off Margate, Kent.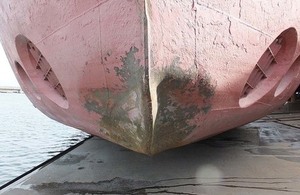 The MAIB report on the grounding of Islay Trader off Margate while on passage from Murphy's Wharf, Greenwich to Antwerp, Belgium on 8 October 2017, is now published.
The vessel sustained plate indentation and frame distortion but there were no injuries and no pollution.
The report contains details of what happened, actions taken and recommendations, read more.
Press enquiries
Press enquiries during office hours 01932 440015
Press enquiries out of hours 020 7944 4292
Published 10 May 2018