ISAF troops play top Afghan women footballers
Women's football is a growing sport in Afghanistan and the top female players recently played a match with British and other ISAF female troops based in Kabul.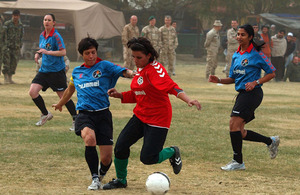 Afghan players ranging in age from 14 to 23 took to the field in the match, including the Afghan women's national captain, Khalida Popal.
They took to the field with the majority not wearing headscarves, and some players had short sleeves.
Even without the Taliban in power, this is still significant for a conservative Muslim nation, and one that has seen Khalida at the forefront. Not only is she the captain, she is also the head of the Afghanistan National Women's Football Committee.
She wanted to play this match to show the international community that 'we are friendly' and that not everyone in Afghanistan is 'like Taliban - stupid people that they [ISAF] are fighting'.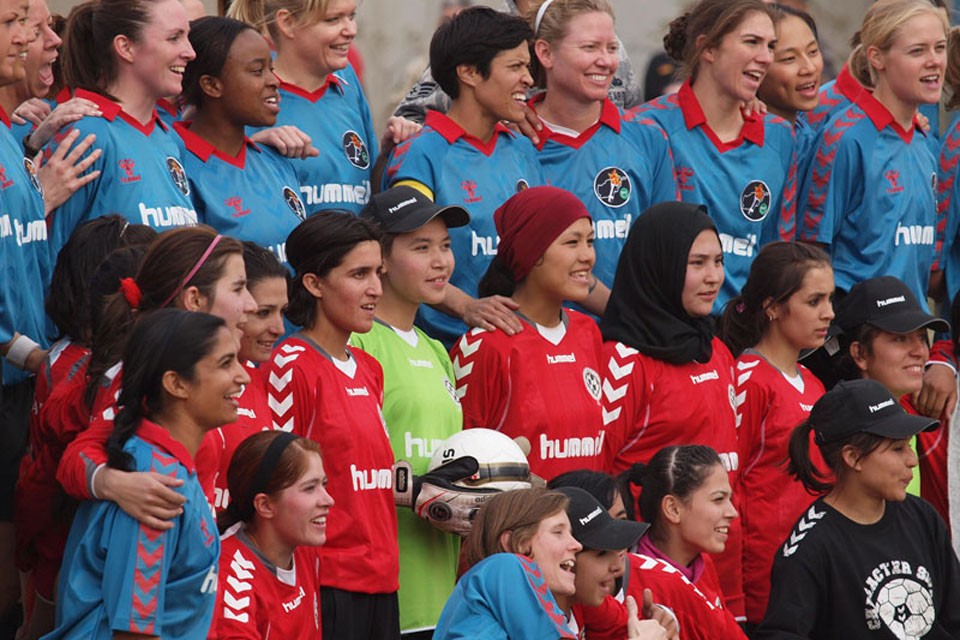 The ISAF team was trained by Lance Corporal McMaster, working as part of the Information and Computer Systems Troop in Kabul. She said:
Our PTI [Physical Training Instructor] told me that there was going to be a football match against an Afghan team. He asked me if I would be able to coach the team and I was really pleased to be able to help. It's something different to be playing against an Afghan team.
The captain of the ISAF team was Sergeant Danielle Figueroa of the US Marine Corps. She said:
I realised that I've taken a lot for granted just being able to play any sport and have the freedoms that I have. It didn't dawn on me until last weekend when we got a chance to talk to them that this is new for them.
However, Khalida says that the Afghan team have had problems on their way to training sessions:
In the beginning, when we just started playing football, everyone was stopping us and they said 'stop playing football'.
The match was decided by a single goal with a 1 - 0 victory for the Afghans, but the real win here was the strength shown by Khalida and her teammates in playing the match. Khalida said:
I am fighting by organising this game. Maybe there will be a big problem for me, but I don't care because I want to show the world that Afghanistan's girls can play football.
Published 16 November 2010