ISAF Commander visits British troops in Afghanistan
The Commander of NATO's International Security Assistance Force (COMISAF), General John Allen, visited British troops working in Task Force Helmand last week.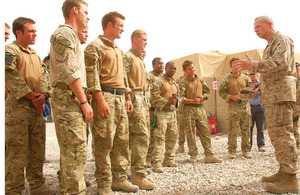 General Allen was given a tour of two districts which are under the control of British forces by the Deputy Commander of Task Force Helmand, Colonel Andrew Jackson.
He spent time at Forward Operating Base Shawqat in Nad 'Ali (South) and was given an operational update from the Commanding Officer of Combined Force Nad 'Ali (South), Lieutenant Colonel Oliver Lee Royal Marines, on the progress that has been made during the course of Operation HERRICK 14.
Afterwards, COMISAF visited the district police headquarters where he met members of the Sayedabad Afghan Local Police (ALP) who the British soldiers and Royal Marines have been training.
General Allen met their leader, Assadullah Karimi, and Captain Ross Drinkwater, from 45 Commando Royal Marines, who has been in charge of training the ALP in the area. General Allen also met with the District Governor of Nad 'Ali, Habibullah Khan, and the District Chief of Police, Lieutenant Colonel Shahdi Khan.
From Nad 'Ali, COMISAF, who was accompanied on his visit by Major General John Toolan, the Commander of Regional Command (South West), visited Observation Post Sterga, a small base in Nahr-e Saraj (South) [NES(S)].
There he was briefed by Major Jonny Kitson, the Chief of Staff of 1st Battalion The Rifles (1 RIFLES), who told the visitors about the work that 1 RIFLES and the Afghan National Army have been doing alongside the Helmand Provincial Reconstruction Team to improve security and boost development for the people of NES(S).
Published 30 August 2011