Is climate change responsible for natural disasters?
Extreme rainfall in Pakistan and high temperatures in Russia have recently raised questions about how much climate change could be to blame.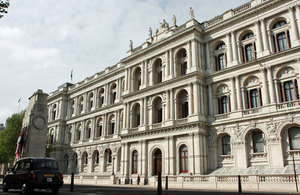 Without strong scientific evidence it is difficult to know whether climate change is a factor and if we can expect more of these types of events in future.
Our understanding is that climate change is likely to increase the frequency of such extreme heat and rainfall events and while we can't relate these recent events directly to climate change, they are a reminder of how damaging extreme climate events can be and why we should be concerned to limit the level of climate change.
A group of scientists from some of the world's leading meteorological organisations, including the UK's Met Office got together for a discussion on the Attribution of Climate-related Events (ACE). FCO staff in Houston have been supporting this as part of an initiative between the Met Office, the US National Oceanic and Atmospheric Association (NOAA) and US National Center for Atmospheric Research (NCAR).
UK and US scientists will work together with the UK Met Office, NOAA and NCAR to carry out attribution experiments to better enhance their understanding of the scientific basis to climate events. Another of the ACE's aims will be to provide clear statements on the meaning and implications of the scientific findings of natural disasters so policy leaders and governments can make informed judgments.
The UK has a dedicated network which fosters scientific collaboration between the UK and US, facilitates innovation, and uses science and innovation to influence the UK's strategic priorities.
The consulate in Houston organised this event which took part in Boulder, Colorado, but is part of a wider science and innovation network across the US which includes the British Embassy in Washington and consulates in Atlanta, Boston, Los Angeles and San Francisco.
Published 9 September 2010