Iron Fist Brigade in huge Canada army exercise
20th Armoured Brigade (The Iron Fist) is currently taking part in a huge army exercise in Canada, to help prepare them for their deployment to Afghanistan next year.
The three-month-long Exercise Prairie Thunder is held at the British Army Training Unit Suffield (BATUS), located in the heart of the vast plains of Alberta in the west of Canada.
The brigade is due to deploy to Afghanistan next year and Exercise Prairie Thunder forms part of their preparations leading up to their mission specific training.
Surrounded by endless barren prairieland it's not hard for the 1,200 soldiers taking part to imagine they are actually in the middle of a gruelling tour in Helmand.
They make up a battle group headed by 1st Battalion The Princess of Wales's Royal Regiment (1 PWRR) - the first of three battle groups from the Germany-based brigade to be put through their paces in the exercise's fictional state of Pokharistan.
Including Pashtu-speaking Afghan actors who live locally in Canada, the scenario is incredibly realistic, with mocked-up villages complete with shops, eateries and schools.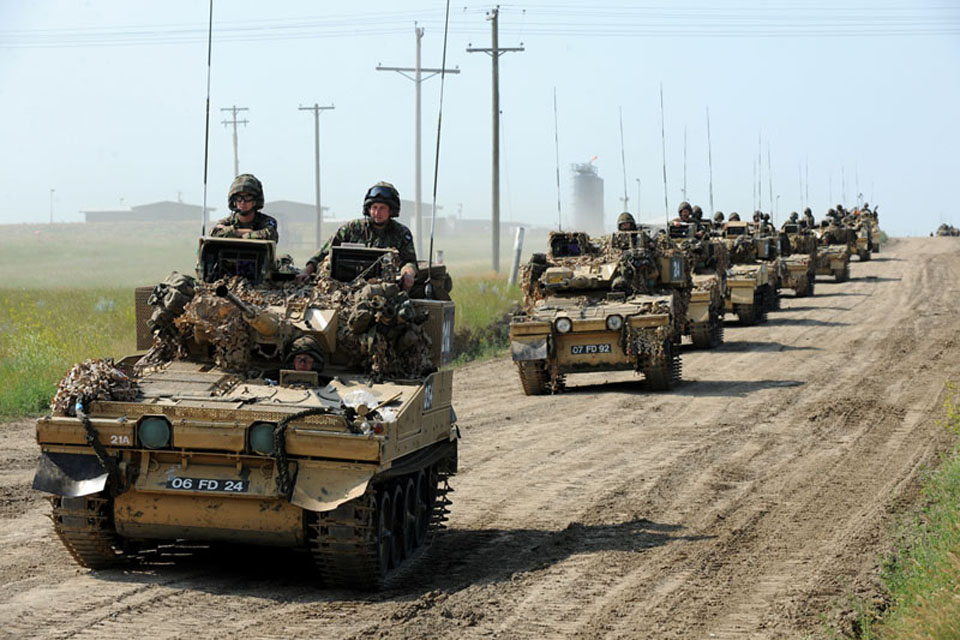 The battle group is able to train in the kind of environment they will face in Afghanistan, conducting counter-insurgency operations, patrols and dealing with locals.
The conditions are also harsh and changeable, with torrential rain turning the prairie into a muddy swamp on one day and then sweltering sun and high winds the next.
The conditions have been particularly difficult for the Army mechanics and engineers who have to keep the armoured vehicles, transporters and tanks going no matter what.
Lieutenant Hannah Adams, aged 23, commands a recovery vehicle platoon with 3 (Close Support) Battalion, Royal Electrical and Mechanical Engineers, who are supporting the battle group. She said:
The recovery assets are used to recover, unbog and reroll vehicles as they move through harsh terrain," she explained.
It's a tough job but our role is so important - without us the exercise would grind to a halt. As an Engineering Officer it is quite difficult to make those engineering decisions without a real scenario, so this training is excellent.
The exercise includes a live fire stage featuring multi-purpose machine guns, heavy artillery AS90 guns, Challenger 2 tanks and Warrior armoured vehicles, before switching to a dry phase in which soldiers use a state-of-the-art computer-backed system where their weapons and vehicles are fitted with the tactical engagement system.
The laser-quest-style system records every detail of an attack, showing simulated injuries from gunfire, shrapnel or mortar attack during a mission. Anyone designated a casualty has to be carried out of the combat zone by their comrades.
At the end of each day exercise planners based at the headquarters are given an after-exercise review, often featuring video footage to pass on to soldiers so they can learn from any mistakes.
Personal administration in the field over extended periods also tests the soldiers' hygiene and ability to live and operate with little access to the luxuries of home.
Sleeping bags, ponchos, a bowl to wash and shave in, and ration packs are just some of the hardships the soldiers face. Added to this is the constant maintenance of kit, equipment and vehicles.
Commanding Officer of 1 PWRR, Lieutenant Colonel Charlie Sykes, spent some of the exercise also living on the prairie, sharing the hardships of his men. He said:
It's tough out here and will only get tougher when we deploy to Afghanistan, but it's excellent preparation and I am enormously proud with the professionalism of my regiment and how well they have faced the challenges of the exercise.
We are lucky as a battalion that we have a chance to come to Canada and do this. There are only five battle groups that come out here each year and to be one of them is very fortunate.
We have the freedom out here because of the space and resources - it's very difficult to replicate this anywhere else.
There is no doubt that we are experiencing the best of British Army training and at the end when we sit down for our first beer, there will be a lot of reminiscing about high points as well as the challenging moments - which is what people join the Army for.
In previous years military exercises in Canada have been conducted with a cold war mentality, dealing mainly in conventional heavy artillery warfare. Exercise Prairie Thunder has evolved training to also take account of modern warfare and modern operations, including engaging with locals and fighting an enemy in the shape of insurgents which can often blend in with communities.
Lieutenant Colonel Kev Copsey, Commanding Officer of 35 Engineer Regiment, who are supporting the battle group, said:
I am extremely envious of the training opportunities the soldiers get now.
I have done BATUS eleven times at different stages - from troop commander up to being on the brigade staff. This is the first time I have come back as a commanding officer since it's changed. It now reflects how we really do business in Afghanistan and other operational theatres.
The soldiers and officers are better mentored, better equipped and better serviced from the perspective of range infrastructure and technology that supports an individual soldier that can be analysed, assessed and approved by using remote electronic systems. It is certainly very humbling to see how quickly they learn in a very short period of time.
Published 6 September 2010