Irish troops in Helmand mark St Patrick's Day
Troops from the 1st Battalion The Royal Irish Regiment and the Irish Guards serving in Afghanistan marked St Patrick's Day in Helmand yesterday.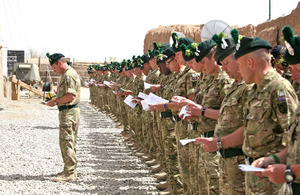 In the early hours of St Patrick's Day, the Commanding Officer of 1 R IRISH, Lieutenant Colonel Colin Weir, joined a number of his officers and soldiers to observe the repatriation of Lance Corporal Stephen McKee, who was killed in action by an improvised explosive device explosion on 9 March 2011.
Also present was friend of the Regiment, Lord Eames, the Anglican Primate of All Ireland and Archbishop of Armagh from 1986 until 2006, who is currently visiting Helmand.
At 1130hrs, on 17 March 2011, the Royal Irish troops who are based in Shropshire and recruit from Ulster, held a St Patrick's Day Parade within Forward Operating Base Shawqat.
The piper, bugler and the shamrock - which had been especially flown in from Ireland - were all present as the soldiers formed up in front of the Regimental Colours.
Lord Eames led the service and presented a shamrock to each of the officers and soldiers. The District Governor of Nad 'Ali, Habibullah Shamalani, was also presented a shamrock on his first ever 'Paddy's Day'.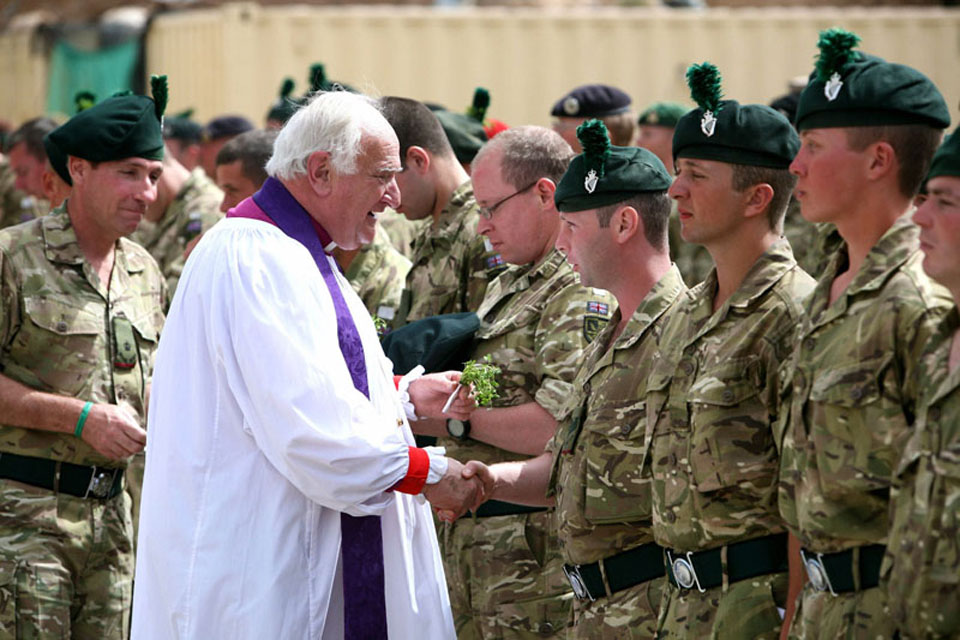 As part of the service, Lord Eames rededicated the memorial within Forward Operating Base Shawqat to those fallen soldiers who have died in Helmand. The 40 names were read out by the Adjutant, Captain Jonathan Toomey. A wreath was then laid by Lord Eames and the Commanding Officer, Lt Col Weir.
Lord Eames said:
It is an immense privilege to visit the Royal Irish Regiment and to see the wonderful progress they have enabled the local community in Helmand to make towards stability and confidence.
The death of Lance Corporal Stephen McKee has cast a shadow over our celebrations of St Patrick's Day, but Northern Ireland should be very proud of what he and all his colleagues have achieved here.
Lieutenant Colonel Colin Weir, Commanding Officer, 1 R IRISH, said:
It was an honour and a privilege to welcome Lord Eames to Afghanistan. It was also especially poignant to hear his warm and inspirational words during the vigil for the repatriation of Lance Corporal Steven McKee, killed in action last week and sent home by his comrades on St Patrick's Day.
Lieutenant Colonel Andrew Totten, Padre for 16 Air Assault Brigade, said:
Many soldiers from the island of Ireland are serving across Task Force Helmand on this St Patrick's Day. Lord Eames, formerly Archbishop of Armagh and successor to St Patrick, inspired the Royal Irish with his presence and message, sharing St Patrick's ancient vision of Peace and Hope.
Lord Eames also visited the Irish Guards yesterday over at Camp Shorabak where they are part of the UK Brigade Advisory Group.
The Irish Guards, along with attached personnel from other specialist cap badges who make up the UK Brigade Advisory Group, started the day with a traditional 'Ulster Fry' with Lord Eames before a Church Service and the singing of hymns.
Lord Eames gave the sermon during which he spoke of his inspiration at what he has seen during his visit to Afghanistan. He said the Irish Guards-dominated Brigade Advisory Group could, like St Patrick, use their gifts to inspire others, and bring about changes for the better in Afghanistan through their work mentoring and advising the Afghan National Army.
The Brigade Advisory Group at Camp Shorabak, and all of the Irish Guards sub units across Helmand, from the Upper Gereshk Valley to Nad 'Ali, received the traditional gift of Irish Shamrock from Her Royal Highness the Princess Royal.
Shamrock was first sent to the Irish Guards by Her Majesty Queen Alexandra in 1901 after the Regiment's formation the previous April, and it has been a tradition carried through every year since.
The short parade is one of the few times in Afghanistan that the Irish Guards, better known for their bearskins and red tunics, guarding the forecourt of Buckingham Palace, are able to parade together whilst on tour.
Pipe Major Glen Loe played traditional Irish tunes while the Shamrock was presented by General Sheren Shah, the Commander of 3rd Brigade, 215th Corps Afghan National Army.
General Sheren Shah's officers and soldiers are advised by the Irish Guards and secure the population of central Helmand Province which includes Helmand's two main cities of Lashkah Gah and Gereshk.
The Irish Guards are due to return to Windsor's Victoria Barracks, where they are based, in April. The Irish Guards homecoming parade and medals presentation will be held in Windsor on 25 June 2011, Armed Forces Day.
The Irish Guards Padre, The Rev'd Alexander Battey, who conducted church parade in the morning said:
St. Patrick has a particular relevance to the lives of soldiers serving in Afghanistan. Like them he was taken far from home, exposed to risk and privation amongst a foreign people, and relied on his integrity, strength of character, and above all his faith in God to bring hope and success out of an apparently desperate situation.
Lieutenant Colonel Christopher Ghika, Commanding Officer, 1st Battalion Irish Guards:
St Patrick's Day is a special day for the Irish Guards. Wherever we are based, we gather, all Irish Guardsmen together, and celebrate our regimental day. Although we have had to scale back slightly the usual programme of events due to the demands of operations, we have still managed to conduct some of the normal St Patrick's Day events.
We had a church service this morning, during which we were privileged to have Lord Eames visit us. Then we had a parade during which General Sheren Shah distributed The Princess Royal's gift of Shamrock; an established Irish Guards custom. It has been a very enjoyable day and one we will all look back on with fond memories.
Published 18 March 2011