Irish Guards take over Afghan Army mentoring role in Helmand
The Irish Guards have taken over the responsibility of partnering an Afghan National Army (ANA) brigade from their colleagues in 1st Battalion The Royal Regiment of Scotland (1 SCOTS) this week.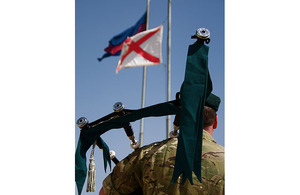 It is the Irish Guards' first deployment to Afghanistan as a formed unit.
Affectionately known as 'The Micks', the 1st Battalion Irish Guards have swapped their ceremonial bearskins for multi-terrain pattern camouflage to continue the work of 1 SCOTS who are returning to the UK.
The Irish Guards are part of 16 Air Assault Brigade, who are in the process of replacing 4th Mechanized Brigade as the lead formation of Task Force Helmand for the start of Operation HERRICK 13.
While the official 'Transfer of Authority' has yet to take place, new faces and fresh perspectives are flowing into Helmand on a daily basis.
1 SCOTS have spent six months with the warriors of 3rd Brigade, 215 Corps (3/215) of the ANA, and partnered them throughout the first Afghan-planned, -led and -executed operations (Op OMID DO and Op OMID SEY). The Irish Guards will focus on building and strengthening this success.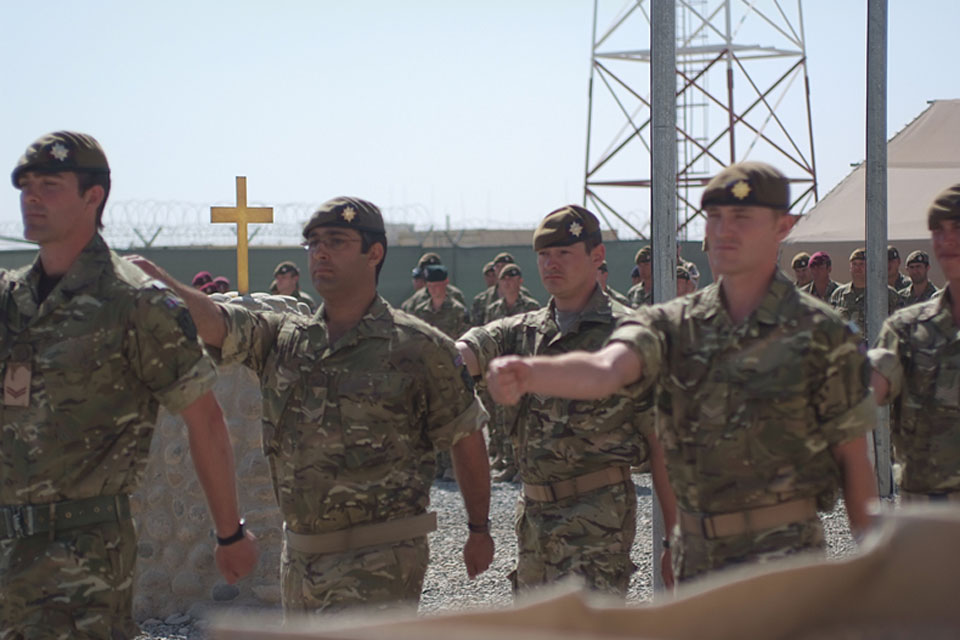 Commanding Officer of the 1st Battalion Irish Guards, Lieutenant Colonel Christopher Ghika, said:
We have a critical role to do in continuing to build on the success of 1 SCOTS and further develop the ANA.
We have trained really hard to get here. We bring a lot to the campaign and are focused on what we have to do.
The handover ceremony was conducted on 27 September 2010 at Camp Tombstone, the ANA base near Camp Bastion in Helmand.
With a lone Scottish piper playing, the Union Flag and Saltire of 1 SCOTS were lowered, and, to the tune of an Irish piper, the St Patrick's Cross and Household Division Colour of the Irish Guards were marched on.
The job of the Irish Guards Brigade Advisory Group will be to partner their Afghan colleagues and share British Army know-how on leadership and planning with them. The Irish Guards will also be learning from their Afghan partners; they will live, eat, patrol and fight side by side with them for the duration of their tour.
Lieutenant Colonel Charlie Herbert, Commanding Officer of 1 SCOTS, said:
It has been a privilege and an enormous pleasure to have commanded the 3/215 Brigade Advisory Group on HERRICK 12. We have been an unusual organisation, drawn from fifteen different regiments and corps.
I could not have asked for a more dedicated, hardworking or courageous group to command, and I thank all ranks for what they have achieved over this tour.
Published 30 September 2010