Irish Guards receive Afghanistan medals from Duke and Duchess of Cambridge
The Duke and Duchess of Cambridge have presented Afghanistan campaign medals to members of the Irish Guards.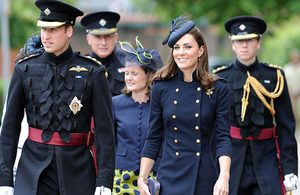 His Royal Highness Prince William spoke of his 'pride and humility' at the soldiers' achievements, and added that he was 'humbled' by the thought of their sacrifices.
The event in Windsor, where the Guards are based, was the first military duty undertaken by the Duchess as a Royal.
The Duke, who is Honorary Colonel of the Regiment, also presented the families of three fallen servicemen with the Elizabeth Cross in a private ceremony.
In a speech to the Guards at Victoria Barracks in Windsor, Prince William said:
I am humbled by the thought of the sacrifices that you and your families have made and the losses that you have suffered - all in the service of our country.
Along with thousands of others back home, I followed your tour in Afghanistan with a mounting sense of awe.
I can only imagine what the campaign medals you receive today must mean to you.
Over the years and decades ahead, when you look at this medal, I'm sure it will bring back so many conflicting memories: sadness, for those who did not return, and thoughts of their families who received their Elizabeth Crosses today; respect, for the sacrifices of our wounded, whom we are all so pleased to see here on parade; gratitude, to your families for supporting you through the impossible pressures that Service life sometimes imposes; and pride, at being part of a battalion that rose to the challenge of operations in such a magnificent way.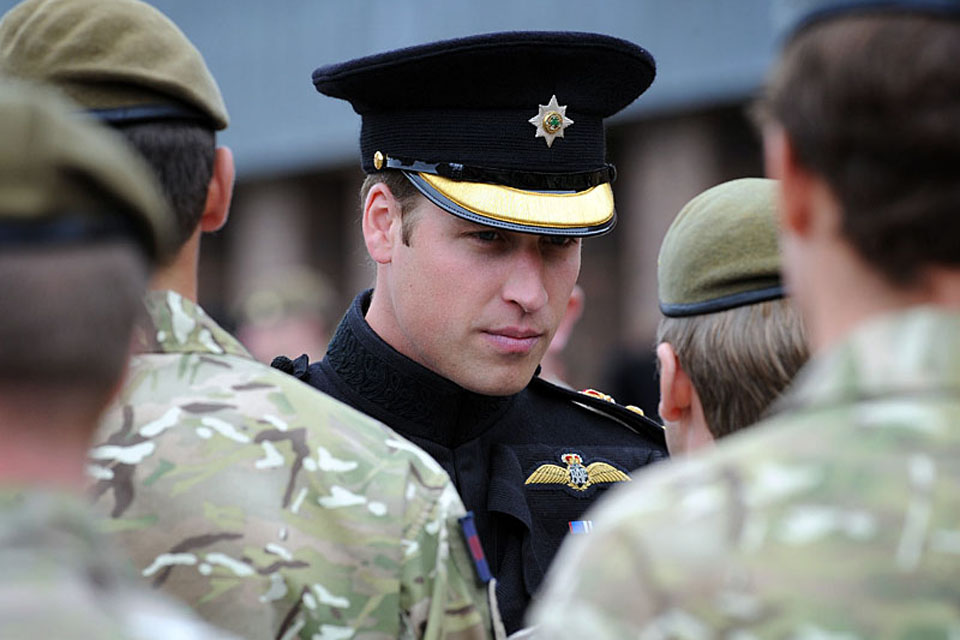 About 400 members of the regiment received medals during the ceremony, with the Duke and Duchess taking time to speak with each one.
The Irish Guards served in central Helmand as part of 16 Air Assault Brigade from September 2010 to April 2011, and were tasked with training members of the Afghan National Army.
The three servicemen whose families were presented with the Elizabeth Cross were all killed in action during the tour.
Guardsman Christopher Davies, from St Helens, died in November from a gunshot wound received during an ambush by insurgents in the Nahr-e Saraj district of Helmand province. Major Matthew Collins, from Blackwell in Somerset, and Lance Sergeant Mark Burgan, from Liverpool, died together in March when their vehicle was caught in a blast from an improvised explosive device.
Medals were also awarded to two soldiers who were severely injured in blasts.
Prince William is the Irish Guards' first Royal Colonel and wore the regiment's uniform on his wedding day.
Six Irish Guards also took part in ceremonial duties at the Duke and Duchess's wedding shortly after returning from Afghanistan.
Published 27 June 2011