News story
Irish Guards perform Guard of Honour for Amir of Kuwait
On a state visit to the UK, the Amir of Kuwait has reviewed a Guard of Honour in the quadrangle of Windsor Castle.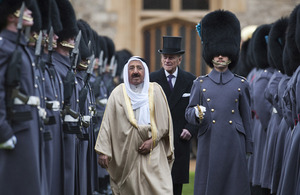 At the end of the inspection, the Amir and the Duke of Edinburgh joined Her Majesty The Queen on the dais to take the salute, led by the Mounted Band of the Blues and Royals. The King's Troop Royal Horse Artillery conducted a march past and the Sovereign's Escort of the Household Cavalry passed the dais in a formation known as a 'Rank Past'.
His Highness the Amir of Kuwait, Sheikh Sabah Al-Ahmad Al-Jaber Al-Sabah, is currently on a state visit to the United Kingdom as the guest of Her Majesty The Queen.
In preparation for the visit, the Queen visited Combermere Barracks in Windsor on Monday 26 November. The visit allowed Her Majesty to meet soldiers from the Household Cavalry Regiment and the Household Cavalry Mounted Regiment.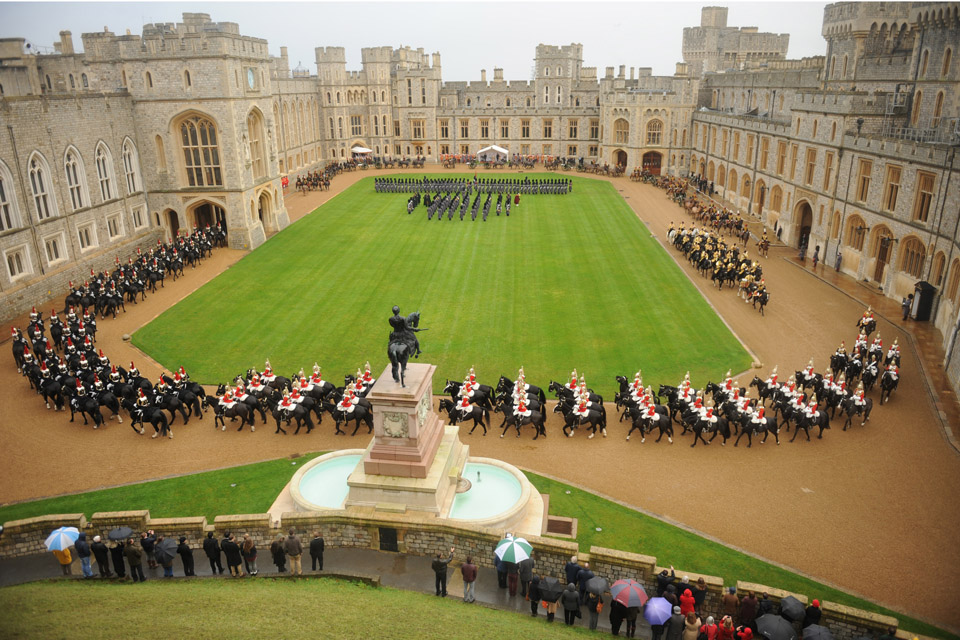 The visit began with a tour of the Training School, where Her Majesty saw a riding lesson being undertaken by Trooper Thomas Ephgrave. Trooper Ephgrave has been learning to ride for four weeks, having joined the Army in March.
The Queen also saw soldiers cleaning and preparing items of uniform and equipment in preparation for today's state visit.
At the stables, Her Majesty was shown the two drum horses that took part in the state visit and met the first female Bandmaster in the Household Cavalry, Warrant Office Class One Esther Freeborn.
Her Majesty was also shown a series of current operational weapons and vehicles being prepared for future operational deployments.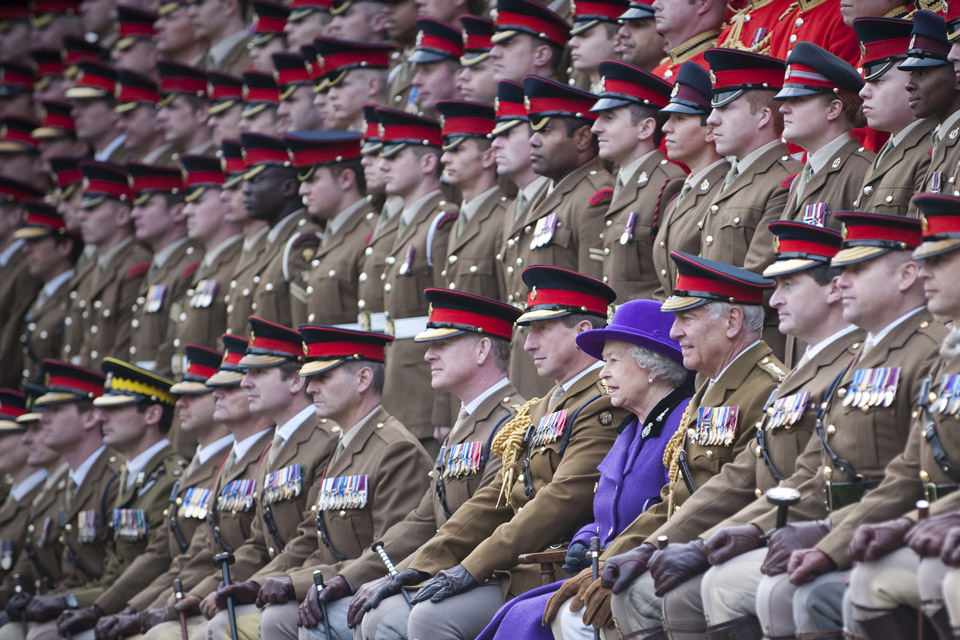 The Queen then took part in a historic photograph with 875 members of both Household Cavalry regiments to mark the royal visit.
At the end of her visit, Her Majesty was presented with a brooch from both regiments to celebrate her Diamond Jubilee.
The Household Cavalry is a Corps of the British Army, split into the Household Cavalry Regiment (an armoured regiment, based at Combermere Barracks) and the Household Cavalry Mounted Regiment (based at Knightsbridge Barracks, London).
Those two regiments, which are equivalent to battalions in terms of size, are made up from company-sized squadrons from the Life Guards and the Blues and Royals, the oldest and most senior regiments of the British Army.
Related news
Published 12 December 2012