Iraqi Kurdistan: a gateway for business
UK Ministers urge British companies to seek out opportunities in northern Iraq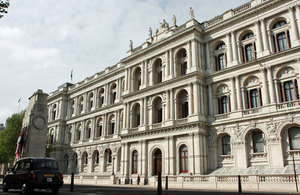 Parliamentary Under-Secretary of State and Minister for the Middle East, Alistair Burt, and Parliamentary Secretary for Business Innovation and Skills, Baroness Wilcox, have urged more British companies to seek out business opportunities in northern Iraq.
Speaking at the Kurdistan Region Trade and Investment Conference in London today, Baroness Wilcox said:
"The Iraqi Kurdistan region is a gateway for British companies looking to establish a foothold in Iraq.
In 2009 there was a five percent increase in UK goods exports to Iraq and in 2008 Iraq's real GDP growth was 7.8 per cent. The country has the third largest oil reserves in the world and proven natural gas reserves.
The Iraqi Kurdistan region offers huge potential across a range of sectors for British companies that want to secure a share of this emerging market."
Baroness Wilcox added that the business opportunities in Iraqi Kurdistan ranged from banking, financial and legal services, insurance and telecommunications, to oil and gas, agriculture and tourism.
Following his meeting with Regional Ministers Falah Bakir and Karim Sinjari, Minister for the Middle East Alistair Burt said:
"The Kurdistan Region Trade and Investment Conference is a great opportunity for British businesses to build strong commercial links between the UK and the Kurdistan Region, which the Foreign Secretary and I are very pleased to support.
Trade is but one of the many ways for the UK and the Kurdistan Region to build closer links. We share many common interests, and already have a bilateral relationship based on co-operation and respect including on economic, commercial, development, defence, culture and education."
Many British companies are already successfully doing business in northern Iraq, including Scott Wilson, which designed the new Erbil International Terminal.
Costain Group has been heavily involved in construction, PWC has won consultancy contracts with the KRG and the National School of Government has won a contract to train the KRG civil service.
Following from this week's conference, UK Trade & Investment (UKTI), the government department that helps British business grow internationally, will lead a trade mission to the 2010 Erbil International Fair, 17-21 October.
The Erbil International Fair offers UK companies the opportunity to meet businesses from across Iraq. UKTI Chief Executive, Sir Andrew Cahn will lead the delegation.
Published 15 June 2010