Iran's nuclear programme: discussions at the UN General Assembly
Foreign Secretary William Hague and EU High Representative Catherine Ashton reiterated concerns about Iran's nuclear programme and underlined the resolve of the international community to oppose nuclear proliferation.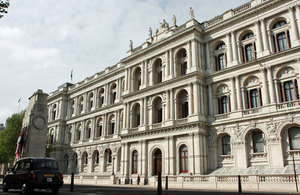 In a meeting with Iranian Foreign Minister Ali Akbar Salehi on 21 September the Foreign Secretary stated that the UK respects Iran's right to civil nuclear power, but underlined that Iran has not persuaded the international community that its nuclear programme is for peaceful purposes.
EU High Representative Catherine Ashton expressed 'grave concern' at recent developments in Iran's nuclear programme reflected in the latest IAEA report, including the installation of centrifuges in its Qom facility and IAEA concern about the possible military dimensions to Iran's nuclear programme. Speaking on behalf of the E3+3, she reaffirmed the E3+3's unity and determination to seek a diplomatic solution and support for a double-track strategy:
"Over the past year we have made concrete and practical proposals for initial confidence building measures to Iran. We deeply regret that Iran has failed to respond in kind. We reaffirm our offer of June 2008 and the proposals we made to Iran in Istanbul in January. We are ready to engage with Iran in a constructive dialogue on the basis of reciprocity and a step-by-step approach and we look to Iran to make clear that it is prepared to engage in the same spirit, in particular by demonstrating willingness to address the international community's concerns about its nuclear programme, without preconditions."
Baroness Ashton also noted that if Iran was prepared to engage more seriously in concrete discussions with the aim of resolving international concerns about its nuclear programme, the E3+3 was ready to meet with the Iranian side in the near future.
Published 22 September 2011