Press release
Investors urged to keep pressure on firms to prepare for climate change
Less than half of major UK companies have plans in place to protect them from climate change.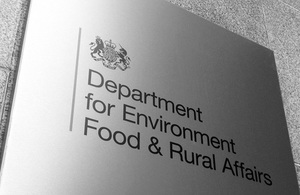 Even though over 80 per cent of businesses say climate change is a substantial risk to them, new research commissioned by Defra has found.
Environment Minister Lord Taylor has today called on investors and shareholders to keep the pressure on their business interests to prepare for climate change so they can achieve long-term growth.
The research, carried out on behalf of Defra by the Carbon Disclosure Project (CDP), found that while 80 per cent of FTSE 100 companies surveyed identified substantial risks to their business from climate change, only 46 per cent said they have included adaptation plans in their business strategies.
Speaking at a CDP event for investors on business attitudes to climate change, Lord Taylor said:
"Investors that want to keep share prices high must stress the need for action to prepare for climate change. They can provide an incentive to businesses to not only consider the long-term risks of climate change, but also the opportunities that can be grasped now.
"UK businesses have the skills, knowledge and expertise to be world leaders in creating solutions to climate risks. But while many firms are beginning to appreciate these opportunities for growth, much more needs to be done if UK firms are to maintain a competitive edge over their rivals. Businesses need to think how climate change could affect their operation and make robust plans to protect themselves. "
Defra has also today published a summary of actions major infrastructure firms and other key organisations are taking to protect our roads, railways, water and energy networks from the impacts of climate change.
The Defra report lists the risks and opportunities from climate change indentified by 91 organisations, who were asked to tell the Government about actions they are taking to prepare for the challenges the changing climate will bring. Over the last 18 months organisations such as water utilities, energy firms and transport operators have been reporting to Defra on what they are doing to ensure the vital services they provide will remain secure in a changing climate.
The report shows that these firms are making good progress in preparing for the risks, and taking positive action to protect national infrastructure and take advantage of any benefits a warmer climate could bring.
Lord Taylor added:
"Our economy and our way of life depend on reliable transport networks and secure energy and water supplies, so I am pleased that the companies we rely on to provide these services are making good progress in preparing for climate change.
"The actions these firms take to protect infrastructure in the coming years will go a long way to deciding how the UK copes with climate change. We want to work with infrastructure companies and businesses as we develop the National Adaptation Programme which will set out the actions everyone needs to take to prepare for climate change."
Notes
Lord Taylor was speaking at a Carbon Disclosure Project event hosted by Investec Asset Management for investors about risks and opportunities from climate change for FTSE 100 companies.
The CDP research 'Insights into climate change adaptation by UK companies' can be found here
The Climate Change Act 2008 introduced a new power for the Environment Secretary to direct companies with functions of a public nature such as water and energy utilities to prepare climate change adaptation reports on how they are assessing and acting on the risks and opportunities from a changing climate. The Government summary published today provides an overview of the responses of 91 companies from sectors including transport, energy and water.
The Government summary is published here
Over the next year Defra will be working will these companies to increase their climate readiness as we develop a National Adaptation Programme to prepare the UK against the range of impacts highlighted in the Climate Change Risk Assessment, published in January 2012.
Published 27 March 2012