Investment opportunity with the Caribbean
Foreign Office Minister Henry Bellingham participated in a panel discussion on investment opportunities within the Caribbean and Europe today in London.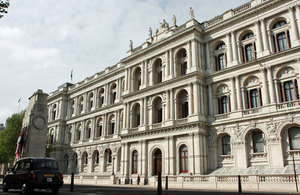 Speaking after the event the Foreign Office Minister said:
"This event was an excellent opportunity to stress the importance of the long-standing trade and investment relationship between the UK and the Caribbean. British firms already operate successful in the Caribbean, as do Caribbean firms here in the UK. But I believe there is much more we can do to raise the level of commercial relations between the Caribbean, the UK and the rest of Europe"
"The 2012 Olympic and Paralympic Games offer a once-in-a-generation opportunity to enhance Britain's reputation as an experienced and dynamic business partner and to deliver a lasting economic legacy for the whole country. We want the Caribbean to share in this, and to maximise the benefits for the region. I am delighted that events like these and others organised by Caribbean Diplomatic Missions in London have sought to take advantage of the wider international audience to promote tourism and trade."
Last year the UK's bilateral trade with the Caribbean exceeded £800 million (£379m in UK imports, £446m in UK exports).
The CARIFORUM-EU Business forum was organised by the Caribbean Export Development Agency.
Published 9 August 2012