News story
Investment opportunities for UK automotive supply chain increasing
New research shows sales by UK-based supply chain manufacturers have increased by £1 billion since 2013.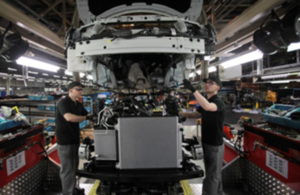 The report 'Growing the Automotive Supply Chain – The Opportunity Ahead' from the UK Automotive Council also highlights £4 billion of unfilled demand for UK-made components.
This is a increase on previous estimates of the amount of business available for companies who invest into the UK automotive supply base. It comes because of continued growth in the UK automotive industry, which has expanded by 50% since 2009.
Business Secretary Vince Cable said,
Our automotive industry has seen a resurgence in recent years. This is testament to the strength and capability of our supply chain manufacturers and will no doubt lead to new jobs and further growth.
Joe Greenwell, Automotive Investment Organisation (AIO) Chief Executive, said,
As well as showing that the UK continues to grow as a serious global automotive destination, this report demonstrates the dramatic power of foreign investment. This has helped to revitalise the UK supply chain and secure critical jobs and growth for the UK.

We at UK Trade and Investment (UKTI) will continue to work hard with our partners to address the growing opportunity identified in the report.
Companies investing in the UK supply chain
Nifco and Calsonic Kansei from Japan, Lear from the USA and Brose from Germany are companies that have taken advantage of this growing opportunity to expand their business.
Lear Corporation
The Lear Corporation is a US Fortune 500 company which supplies automotive seating and electrical systems. The company employs around 2,000 people in the UK across multiple sites.
With UK government support Lear has built a new foam plant and a new production and technical centre. This will create nearly 1,200 jobs.
Gideon Jewel, Lear Corporation's President for Europe and Africa, said,
We at Lear are proud of our close association to the UK. The UK offers great labour flexibility, very competitive taxes, low staff and production costs compared to elsewhere in Europe, and a government approach that actively encourages and supports automotive investment and expansion.
Calsonic Kansei Europe
Calsonic Kansei Europe is a global supplier of automotive components such as interior mouldings, air conditioning and exhaust systems.
The company employs more than 1,700 employees across 4 manufacturing locations in the UK. This includes a Research and Development (R&D) centre in Wales.
The company has produced components for 600,000 Nissan Juke vehicles and 2 million Nissan Qashqai vehicles. The company's new £5.7 million investment will increase production capacity and supply parts to Spain, France, Russia, Japan and South Africa.
James Davies, Chief Executive Officer (CEO) and Chairman, Calsonic Kansei Europe, said,
Today's report from the Automotive Council confirms what we are all experiencing – the success story of the UK automotive supply chain. Calsonic Kansei's ability to produce high quality and cutting edge products at a price which is competitive is opening up exciting opportunities to export our product to a global market.
UKTI AIO
UKTI's Automotive Investment Organisation (AIO) was set up at the request of the UK Automotive Council in 2013 to bring more foreign investment into the UK automotive sector.
Since it started, the AIO has secured or created more than 10,000 jobs, and delivered more than £768 million in investment into the UK supply chain.
Contact AIO
Find out more about investment opportunities in the UK automotive sector.
Growing the Automotive Supply Chain – The Opportunity Ahead
Final AIO figures in the report are shown for the period April 2013 to March 2014. Interim figures are shown for the period April 2014 to February 2015, pending UKTI verification.
Published 13 March 2015