Press release
Investment and campaign to help small firms grow
Vince Cable launches campaign to help small firms and unveils first funding allocation from the British Business Bank's investment programme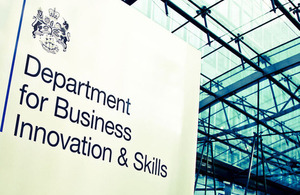 Business Secretary Vince Cable today (6 November 2013) kicked off a wave of activity to boost small businesses, including unveiling the first funding allocation from the British Business Bank's investment programme and launching a campaign to help small firms grow.
The first £45 million of funding is to be committed to Praesidian Capital Europe (£30 million) and BMS Finance (£15 million) to provide debt finance of approximately £125 million through their respective new funds. Once legal terms are agreed it is expected that both funds will start lending to small businesses in early 2014.
In addition to this, Vince Cable also set out other measures that will provide support to small businesses. These include:
a new £1 million Sector Mentoring Challenge Fund that will enable firms to benefit from support and advice from experienced business people in their own field of work
a £10 million synthetic biology start up fund from the Biotechnology and Biological Science Research Council (BBSRC) to help entrepreneurial scientists working in synthetic biology get their business off the ground
the successful Growth Accelerator scheme, which provides specialised coaching to small businesses with high-growth potential, will have helped 10,000 firms in the coming weeks.
Business Secretary Vince Cable said:
Today we have set out a comprehensive package of measures that will address the concerns of small firms.

The first investments from the British Business Bank's investment programme will provide choice to smaller businesses looking to secure vital finance to help invest. Alongside cutting red tape and increasing the take up of business rate relief, government has already made significant progress in improving the business outlook for small firms and entrepreneurs.
A new business support website, www.greatbusiness.gov.uk will also make it easy to access the services and products, including Manufacturing Advice Service, National Apprenticeship Service and Growth Accelerator, that help businesses grow. The website will be supported by an advertising campaign showcasing the very best in British small businesses, to help inspire other small businesses to take steps to grow. This is the first domestic use of the GREAT campaign.
Skills and Enterprise Minister Matthew Hancock said:
Small firms are a vital driver of our economy's success, so it is imperative we do all we can to ensure businesses don't just survive, but thrive to compete in the global race.

We have set out today the start of our ambitious plans to help small businesses realise their potential and the support available to them to help them grow. Government has an important role in providing a coherent package of measures to support businesses, but there is also a role for business-to-business support, with successful, growing small businesses talking to others about how exporting, hiring and business planning can take a business to the next level.
In December a cross-government strategy on small business support will be published. There are 4.9 million small businesses in the UK, and providing them with the tools they need to thrive is an important task for government to ensure the recovery of the economy. The strategy will be aimed at small businesses with the ambition to grow, setting out how it will make it easier for them to do so through a range of measures, including improving access to finance and help to export and innovate.
Notes to editors:
The Business is GREAT Britain campaign and small business support measures were announced at an event at the British Library's Business and IP Centre. The British Library is the national library of the UK and one of the world's greatest libraries. The Business & IP Centre, based at St Pancras in London, opened in March 2006 with the help of London Development Agency funding. Since then, it has welcomed over 350,000 people through the doors and has an excellent track record in supporting entrepreneurs and SMEs from all walks of life to start and grow businesses. The Centre provides free access to an unparalleled resource of business and intellectual property information (over £5 million worth), supplemented by one-to-one advice clinics, practical workshops and networking events, featuring 'role model' entrepreneurs.

Today's announcement that the British Business Bank is investing £45 million to boost finance for small businesses is the first allocation of funds from the bank's £300 million investment programme launched in April.

£30 million of funding is to be commited to Praesidian Capital Europe, which is expanding its successful US model including the launch of a new fund to provide senior and mezzanine debt finance to smaller and medium sized UK businesses. At first close, the fund size will be £96 million.

A further £15 million will be invested through BMS Finance, an independent, specialist finance company, focused on lending to smaller and medium sized UK businesses with high growth potential and nearing profitability. At first close, the fund size will be £30 million.

The British Business Bank will support economic growth by bringing together public and private sector funds to create more effective and efficient finance markets for small and medium-sized businesses in the UK. The British Business Bank is a key element of the government's Industrial Strategy, and its programme is already contributing to making the UK the best place in Europe to start, grow and finance a business.

The British Business Bank programme is currently run directly by the Department for Business, Innovation and Skills and is not authorised or regulated by the Financial Conduct Authority or the Prudential Regulation Authority. Once HM Government has received European Commission State aid clearance, which is expected in 2014, this programme will be transferred in its entirety to the British Business Bank plc, which will operate as a government-owned financial institution.

The £300 million investment programme is designed to promote the diversity of lending by encouraging new entrants in the market. Its aim is to support the development of diverse debt finance markets available to smaller businesses and mobilising additional funding from the private sector.

The programme may invest in businesses that offer non-traditional channels of lending that may not be regulated by the Financial Services Authority or the Office of Fair Trading and may carry a higher degree of risk than other investments. By making these investments the government is in no way endorsing or guaranteeing any particular channel, platform or investment, and investors should not, therefore, in any way treat the government's involvement in an investment as an indication of the investment's soundness. Private investors, in particular, should consider seeking independent financial advice before making investment decisions of any kind.

For more information on the British Business Bank and its £300 million investment programme, please visit: http://british-business-bank.co.uk/

The Sector Mentoring Challenge Fund aims to encourage employers, trade bodies and others to work together and deliver tailored mentoring that address real business needs in their sector.

The competition is open to any organisation in the UK. Proposals will need to:

stimulate demand by matching SMEs with mentors who understand their sector and needs
add value to existing mentoring provision
have the backing of employers or other representative groups
deliver value for money

The Fund is worth £1 million and BIS is looking to invest up to £150 thousand per project and is particularly interested in innovative schemes that lead to a sustainable self funding model.

Applications must be submitted to BIS by noon on the 11th December 2013. For further information visit 'Sector Mentoring Challenge Fund: application form and prospectus.

The synthetic biology fund will be managed by private investment specialist Midven through its association with the long-established Rainbow Seed Fund, which provides kick-starting finance to technology start-up companies that evolve, or spin-out, from publicly funded research.

The investment has been allocated to the fund by the BBSRC in response to the 2012 Synthetic Biology Roadmap, which sets out plans to harness opportunities in this area. For more information visit: www.bbsrc.ac.uk.

The government's economic policy objective is to achieve 'strong, sustainable and balanced growth that is more evenly shared across the country and between industries'. It set 4 ambitions in the 'Plan for Growth', published at Budget 2011:
to create the most competitive tax system in the G20
to make the UK the best place in Europe to start, finance and grow a business
to encourage investment and exports as a route to a more balanced economy
to create a more educated workforce that is the most flexible in Europe
Work is underway across government to achieve these ambitions, including progress on more than 250 measures as part of the Growth Review. Developing an Industrial Strategy gives new impetus to this work by providing businesses, investors and the public with more clarity about the long-term direction in which the government wants the economy to travel.
Published 6 November 2013