News story
Track worker safety outside possessions
Class investigation into accidents and near misses involving trains and track workers outside possessions.
This news article was withdrawn on
This item has been moved to the National Archives as RAIB has published its report into track worker safety outside possessions. See Report 07/2017.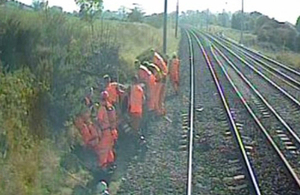 RAIB has investigated a number of accidents involving track workers on Network Rail's infrastructure and has identified track worker safety as an area of particular concern in recent annual reports. As a result, throughout 2015, we have been gathering data on track worker near miss incidents.
On 20 August 2015, we published our class investigation into possession irregularities. The main focus of that investigation was the safety of staff involved in carrying out engineering work associated with the closure of a line to all trains other than those directly involved in the work itself.
We are now undertaking a complementary class investigation focused on the safety of track workers under all circumstances other than those associated with possessions of the line.
Our investigation will:
review the circumstances of accidents and near miss incidents involving trains and track workers outside possessions during 2015
determine the causal factors of a representative sample of those incidents
understand how and why decisions are made in practice, on the choice of protection arrangement, and identify trends over the last five years in the use of different types of protection arrangement
identify the key factors in planning and undertaking work on site (including the behaviour of individuals) that increase the probability of track workers' protection from moving trains being compromised
include engagement with staff involved in planning safe systems of work and in implementing safety arrangements on site
consult with industry bodies that have an interest in track worker safety
consider previous relevant RAIB investigations and their findings and recommendations.
Our investigation is independent of any investigation by the railway industry or by the industry's regulator, the Office of Rail and Road.
We will publish our findings, including any recommendations to improve safety, at the conclusion of our investigation. This report will be available on our website.
You can subscribe to automated emails notifying you when we publish our reports.
Published 2 February 2016