World news story
Introduction of appointments for notarial and ETDs in Hong Kong
From 23 March 2015 you will need to make an online appointment before visiting the Consulate for notarial services and ETDs.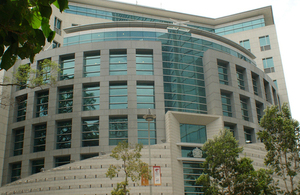 From 23 March 2015 British nationals needing to visit the Consular Section of the British Consulate General in Hong Kong for notarial services and Emergency Travel Documents must make an online appointment in advance. The online booking service will replace the current first-come first-served queuing system.
The new, easy to use online booking service will enable you to book an appointment in advance for notarial and Emergency Travel Documents. Information about the services we provide can be found on our website. If you have questions you can telephone us on (852) 2901 3000.
A same day notarial service will be provided subject to the application being correctly completed and Emergency Travel Documents will be issued one day before travel unless a visa is required for the country you are travelling to. Please ensure you have all necessary documentation and the appropriate fee for the service you require.
This change to how we provide our notarial services and Emergency Travel Documents in Hong Kong is part of the Foreign and Commonwealth Office's 2013-2016 Consular Strategy, launched by the British Foreign Secretary in April 2013. The strategy commits us to providing a more professional, modern and streamlined service for British Nationals who require access to notarial and Emergency Travel Documents.
Further information
Follow the British Consulate-General Hong Kong on Facebook and Twitter
Published 13 March 2015