World news story
Intervention on Preventing Sexual Violence in Conflict
Delivered by the Rt. Hon. Baroness Anelay, OSCE Vienna, 21 July 2016.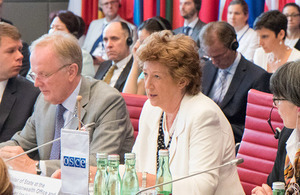 Thank you Ambassador Pohl for your introduction.
Ambassadors, delegates, good morning. I am delighted to speak to you today about the importance of Preventing Sexual Violence in Conflict.
The UK is a strong supporter of the OSCE. The range of issues covered by the organisation is vast and your agenda is crucial to regional peace and stability. The OSCE offers a unique platform for States to come together and co-operate on some of the most important challenges facing the world today: from human rights to arms control, from post-conflict resolution to good governance. This is why we value your work so highly.
These are challenging times in the OSCE neighbourhood. At times like these it is harder than ever to find common ground. It is only by working together that we can overcome some of the most pressing and difficult challenges that we face. I strongly believe that preventing sexual violence in conflict is an area where there is scope for greater cooperation.
I am sure that most of you are aware of the UK's Preventing Sexual Violence in Conflict Initiative – PSVI for short. Its aim is to eradicate sexual violence in conflict through four strands of activity:
Improving accountability at national and international levels;

Providing greater support to survivors of sexual violence, including children;

Ensuring sexual and gender-based violence responses and the promotion of gender equality are fully integrated in all peace and security efforts; and

Improving international strategic cooperation.
Sexual violence in conflict is a truly global challenge. Sexual violence causes pain, suffering and trauma. Its survivors can be male and female. They endure physical and mental suffering, both at the time of the abuse and afterwards. Survivors and children born as a result of sexual violence are often stigmatised by others. They can be ostracised from society, treated differently by family members, cut off from support networks, and denied justice.
This last issue is of particular importance to me, and one I have witnessed firsthand during my visits.
Last year I visited Kosovo, and Bosnia and Herzegovina. It has been almost two decades since the fighting ended in the Balkans. An entire generation is coming of age with no first-hand memory of the conflict. But at the same time, I saw that old wounds have not yet fully healed, because many of the perpetrators of sexual violence have still not been brought to justice.
I met survivors who have to pass their attackers every day in the street. It makes them feel powerless and fearful. Some of the victims say it is like being abused all over again.
And this is exacerbated by the shame they feel. Many I spoke to were still unable to tell their closest family members about their ordeal – more than 20 years on.
But more positively, I also saw how survivors' lives can be transformed when they are given help and support. That support comes from many sources, and a great deal comes from organisations such as the OSCE. I am very glad that OSCE Ambassadors prioritised this important aspect of post conflict reconciliation during a recent visit to Bosnia and Herzegovina.
I am proud of the leading role the UK has played in tackling sexual violence in conflict. In June 2014, our then Foreign Secretary – now Lord Hague - and UN Special Envoy Angelina Jolie-Pitt, co-hosted in London the Global Summit to end Sexual Violence. The summit cemented many achievements.
To name a few:
We launched the first International Protocol on the documentation and investigation of sexual violence in conflict.

The African Union announced the launch of a pilot project in the Central African Republic (CAR) to respond to the urgent needs of victims of sexual violence. The African Union mission will now include a team of experts including doctors, psychologists, lawyers and police officers dedicated to help victims of sexual violence.

Finally, many countries made substantial pledges to fund work to help survivors, ensuring that the summit will have a lasting legacy.
The Global Summit helped place sexual violence firmly on the international peace and security agenda. Since then, the UK has been working with other committed partners to embed progress around the world.
For example:
We are supporting NGOs in Bosnia to provide legal assistance to survivors. In June 2014, our support helped secure a landmark ruling where a former soldier was sentenced to eight years in prison and ordered to compensate the woman he raped in 1993. This ruling has opened the way for thousands of survivors in Bosnia to seek justice.

The Governments of Croatia and Kosovo have revised their laws to allow victims of sexual violence from the conflict in the 1990s greater access to compensation, state support and benefits.

To give an example from outside the OSCE neighbourhood, the Government of the Democratic Republic of Congo has launched an action plan on sexual violence for the Congolese Army. The Congolese President also appointed his own Presidential Adviser on Sexual Violence and Child Recruitment, to help drive forward this agenda.
There are many other examples of tangible progress. There is not enough time for me to mention them all and thank everyone involved. The most important thing is that we do not let momentum slip.
In 2016, the UK wants to build on the progress we have achieved. We want to continue to work in partnership with other governments, the UN, the African Union, and other multilateral organisations – such as the OSCE – to give more support to survivors and hold more perpetrators of sexual violence to account.
We will focus our efforts around three main themes:
First, we want to do more to challenge harmful attitudes to sexual violence and end the stigma suffered by many survivors. We propose to do this by working with international partners and organisations to address the social norms and attitudes which make women and girls particularly vulnerable to suffering sexual violence in conflict and the consequences of it.
Secondly, we want to do more to deliver justice for survivors by providing further training on the International Protocol on the Documentation and Investigation of Sexual Violence in Conflict; and pressing for changes in domestic laws to improve the lives of survivors of rape and children born of rape.
We will also do more to help build the capacity of grass-roots organisations to help survivors – and I am delighted to tell you today that I have just approved £2.5million in funding for this year to carry out this work in countries around the world, including Burma, Burundi, Bosnia and Herzegovina, Central African Republic, South Sudan and others.
And thirdly, we want to improve the ability of security forces to prevent and respond to sexual violence, by enhancing our own military training and using UK experience to encourage similar progress by others.
I am pleased that the elimination of sexual violence in conflict is included in the OSCE's commitments, including in Ministerial Council Decision 7/14 on violence against women that was taken in Basel in 2014. This was an important step in raising awareness of this issue within the Organisation.
I also fully endorse the OSCE's focus on supporting the implementation of National Action Plans on UN Security Council Resolution 1325, because this resolution is the cornerstone of global efforts to promote gender equality, and advance women's rights and participation.
The visits to Ukraine last year by the OSCE Special Representative and Co-ordinator on Combating Trafficking in Human Beings and the OSCE Secretariat's Senior Adviser on Gender were examples of this focus in action. They raised awareness, supported Ukrainian state institutions in their commitments, and enhanced the ability of the OSCE Special Monitoring Mission to Ukraine to monitor and report on the crisis in the East.
I am pleased to say that the UK is contributing extra-budgetary funding to the activities of ODIHR and the OSCE Gender Unit. Addressing sexual violence in conflict should be an important aspect of their work.
Clearly, not all OSCE participating States are so directly confronted with the challenge of sexual violence in conflict, or issues associated with post-conflict reconciliation. However, as I have set out, we firmly believe in the need for an international approach to tackling this issue. In some situations, attitudes and perceptions must be changed – for example to ensure that it is the perpetrators, not the victims, who shoulder the blame for sexual violence.
This brings me to the key question on which I would be very interested to hear your views. How can the OSCE best support international efforts to prevent sexual violence in conflict and to tackle the stigma suffered by survivors?
From my own experience with other international and regional organisations, and the important work that the OSCE is already undertaking on gender, I believe there is a niche opportunity for the OSCE to engage on this issue from a number of angles.
First – on tackling stigma. How can we ensure that survivors of sexual violence do not endure further suffering after their ordeal? Supporting these survivors, and helping them reintegrate as positive, contributing, members of their communities, is a huge challenge. But it is a challenge that I believe we can and must overcome. The OSCE could play a vital role.
The OSCE's field operations are uniquely placed in terms of mandate, access and expertise, to support this agenda. There are already great examples of this, most notably in Bosnia and Herzegovina. The OSCE Mission's 2014 report on Combating Impunity for Conflict-Related Sexual Violence was a hugely important milestone in addressing the challenge of impunity for perpetrators in that country.
The OSCE was instrumental in getting authorities to prioritise and resource wartime sexual violence cases. The Organisation helped shape a different, more empathetic approach towards victims. The lasting legacy of this work is the pool of 18 police academy trainers, who are now ready to deliver high quality training on sexual violence offences to prospective investigators. The OSCE continues to play a valuable role ensuring that war crime training for Judges, Prosecutors and Investigators includes a sexual violence element.
The second way that the OSCE could engage in this agenda is through capacity building. Their field operations could enhance the capacity of civil society organisations, which play a vital role in identifying and protecting victims. They could also build the capacity of judicial and law enforcement agencies to prosecute perpetrators.
Thirdly, OSCE field operations could work with host countries on judicial reform, accountability and access to justice. This should ensure that perpetrators can be prosecuted in accordance with national and international law. More generally, the OSCE has an essential role to play in bringing States together to discuss challenges and promote global security. I believe that the OSCE's unique platform for dialogue could be used for a more regular exchange on this issue, to enhance efforts on tackling sexual violence in conflict, and provide support to countries most directly affected.
To conclude, I want to acknowledge the substantial contribution made by many countries represented around this table today to the prevention of sexual violence in conflict, be it through other international and regional organisations, or in a national capacity. PSVI could not have made the progress it has without your help, and on behalf of the UK I would like to thank you for your support.
I have given my own reflections on how the OSCE might do even more to support our global fight to end sexual violence in conflict. I look forward to further exchanges of view with you on the issue now and in the coming days.
Thank you.
Published 28 July 2016