World news story
Internship opportunity in the Helsinki Embassy's Political and Press Section
This was published under the 2010 to 2015 Conservative and Liberal Democrat coalition government
A full-time, temporary position, for a maximum of three months as an Intern in the British Embassy in Helsinki is currently available.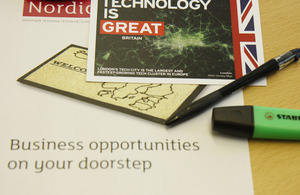 The Embassy is responsible for developing and maintaining positive relations between Britain and Finland. The Political and Press Section works to promote political links between the UK and Finland bilaterally and our European Union partners. For further information on our work, visit UK and Finland, About us
The Position
As an Intern, you will be based within the Political and Press Section but also work closely with other colleagues in the Embassy including the Trade and Investment Section. Your main responsibility will be to assist political and press work as well as help the Ambassador's Office with organising events. Tasks can range from assisting with political analysis and reporting, delivering public diplomacy events, to corporate communications work, including media monitoring and work on our web-page. One of your main tasks will be to assist with arrangements for our high-profile national day celebration at the end of May. This is an ideal opportunity for those interested in international work to gain experience in a busy Embassy.
Skills and Experience of the preferred candidate
The ideal candidate for this position is a masters-level student of political science, international affairs or journalism with excellent communication skills, including fluency in both written and spoken English and mother tongue level fluency in Finnish. Furthermore, we expect good knowledge of the UK/Finnish political scenes and current affairs, including EU affairs; excellent organisational skills and an ability to prioritise tasks and work to deadlines. A customer-focused approach and a positive attitude as well as creativity, flexibility and an outgoing personality are also appreciated.
We expect candidates to learn quickly and show a willingness to develop new skills. They should also be able to work independently as well as work well with others and demonstrate attention to detail and a commitment to carrying tasks through to completion. The candidate should have excellent IT skills (Word, Outlook, MS Access, PowerPoint and Excel), experience in web maintenance and knowledge of social media (Facebook, Twitter and Flickr).
Terms and Conditions
The duration of this internship will be for a maximum of three months from 1 may 2013 to 31 July 2013. Normal working hours are from 9am to 5pm. We are primarily looking for interns that have been allocated internship funding from their respective university. In these cases the university will pay the intern a salary of around 1100€/month for two months and the Embassy will provide the same salary for the third month. Please be prepared to certify that you have been allocated internship-funding from your respective university.
The Embassy does not make tax deductions from salary payments and it will be the successful candidate's responsibility to ensure tax payments relating to payment for their work at the Embassy are made to the Finnish authorities. The position may be subject to necessary security clearance and a probationary period. The British Embassy is an equal opportunities employer and does not discriminate on the grounds of ethnic origin, race, religious beliefs, age, disability, gender or sexual orientation.
Applications, including a short letter setting out why you are interested in the position and a copy of your CV should be sent to sofia.suvila@fco.gov.uk. If you wish to discuss the position, you are welcome to call the Political and Press Section (+358 9 22865216) on either Monday 18 March 2013 or on Monday 25 March 2013. The deadline for applications is Monday 1 April 2013. Interviews are likely to be held the week after. If you have not been contacted for an interview by Friday 5 April 2013 your application has not been successful.