World news story
International Women's Day
Giving more assistance to the vulnerable community in Somalia for the last 2 years.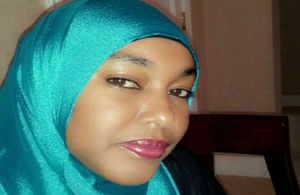 The theme of this year's International Women's Day is 'inspiring change'. The British Embassy Mogadishu works with a variety of inspirational women in Somalia whose drive and passion is truly remarkable. One of these is 30 year-old Halima Adan. She is the Gender Based Violence (GBV) coordinator at Save Somali Women and Children (SSWC)
Halima was born and raised in Mombasa, Kenya. She studied at the University of Greenwich and completed her undergraduate Bsc in Computer Science in London. She began her career at a leading Internet Service Provider in Kenya and like most young people her age you would expect her to be focused on progressing her career and finding a way to earn more money. But not Halima, her goal is to give more assistance to the vulnerable community in Somalia where she has worked for the last 2 years.
I joined SSWC because I want to make people lives better. It's always been a wish of mine to handle hundreds of thousands of people who are in need. To do so you must understand the culture and values of the society you work in. My work is very rewarding and has improved my leadership skills and taught me how to be creative when trying to address social problems in difficult circumstances like in Somalia SSWC was set up over 20 years ago in Mogadishu by a group of Somali women intellectuals from a cross-section of the community. Their aim was to contribute to the creation of a safe and sustainable situation by supporting women to overcome marginalisation, violence and poverty in their communities. SSWC operates as a non-profit making organization and networks with a variety of organisations that share similar values and vision. In Somalia women face a range of complex challenges that require multiple solutions.
It's certainly a challenging environment. There is fear among the neighborhood, men are silently operating whilst violating women rights. Often our GBV field monitors cannot collect enough data about incidents which need response due to this fear of insecurity. There is no proper rule of law and individuals tend to take law with their own hands, perpetrators of GBV are increasing their force since there is no punishment waiting for their inhuman actions and when we provide the legal services for survivors even when found guilty the weak police system will allow them to be free. There is no proper democracy.
The work of Halima and her team to get justice for victims of GBV is compounded by insufficient police capacity to respond to GBV cases, a lack of adequately trained officers and female police staff, knowledge of and confidence in the formal system, all of which prohibit women from reporting. Distrust between the victims and police for reporting GBV cases prevails and many women and girls do not report for fear of reprisals from perpetrators, community and family.
With the help of funding from the UK SSWC is working hard to change all of this. Providing over 2000 dignity kits and empowering 150 survivors by giving them tools and training to start their own business. This has included training in tailoring and providing sewing machines for the women to start their business and be self-sustainable. The dignity kits are provided for victims who fled their homes without basic items like clothing and toiletries and are living in deplorable humanitarian conditions.
The UK's support to SSWC is part of £1 million of UK spending on projects to prevent sexual violence across South Central Somalia, led by Somali organisations. The approach is victim-centred, starting with the provision of basic services. Projects focus on training and capacity building including health workers, providing psychosocial, legal, and economic support and raising awareness through education. This is combined with wider UK funded programmes including improving economic opportunities for women; essential packages of health services; addressing FGM; the provision of safe drinking water (avoiding long trips in search of water, thus reducing exposure to incidences of gender based violence); and the governance programme which is designed to make formal institutions (including the justice system) more responsive to the needs of women and girls, increasing female participation and supporting women to better understand their rights.
Partners like Halima are delivering front line services in dangerous and challenging conditions, often risking their own safety to do so. "What motivates me most to continue with my work is seeing a smile on the faces of the vulnerable people we serve, empowering them by meeting their priority needs, it is just a blessing" smiles Halima
A remarkable woman who is playing her part in changing the lives of so many women and children for the better. A true inspiration to us all.
Published 10 March 2014