News story
International sham marriage gang jailed
A gang of 18 behind a sham marriage scam stretching from Yorkshire to Pakistan have been jailed for a total of nearly 28 years.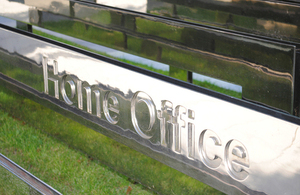 Over the course of two years Czech, Slovak and British brides and grooms were paid to fly to Pakistan and take part in fake wedding ceremonies, despite many of the couples not speaking the same language.
International marriages
The marriages were aimed at exploiting the right of spouses of EU nationals to work and claim benefits in the UK. Organisers held them abroad to try and reduce the risks of being caught.
But UK Border Agency officers in Islamabad identified a suspicious number of applications from Pakistani nationals wanting to join partners in the UK and launched an investigation.
Their action meant no Pakistani national involved in the conspiracy was able to live in the UK and led to today's convictions. A man and woman are also being sought for their part in the scam.
Immigration Minister Mark Harper said: 'The sentences handed out today send a clear message to anyone tempted to break immigration rules. We have the resources, expertise and technology to catch you, and you will pay with your liberty.'
Mark Bates, from the UK Border Agency crime directorate, said: 'This international crime group systematically abused the immigration system and showed a total disregard for the sanctity of marriage. As a result of our investigation the perpetrators of these cynical crimes are now behind bars.'
They were sentenced to a total of 27 years and nine months.
Anyone who has information about immigration abuse should contact Crimestoppers anonymously on 0800 555 111 or visit Crimestoppers.  
The gang and their sentences including charges and plea details:
Guilty of conspiracy by jury:
Nikola Horvathova, 26, Czech - 12 months jail
Eva Holubova, 19, Czech - 10 months in young offender institution 
Kristina Popikova, 34, Slovak - 12 months
Peter Pohlodko, 19, Slovak - 21 months in young offender institution 
Mohammed Ramzan, 59, British, from Rotherham - 3 years
Aftab Hussain, 36, Pakistani, from Sheffield - 2 years
Guilty of conspiracy by plea:
Rahina Zaman, 32, British - 2 and half years
Talib Hussain, 42, Pakistani, from Rotherham - 6 years
Veronika Pohlodkova, 37, Slovak - 4 years
Zuzana Holubova, 26, Czech - 7 months
Guilty of substantive offence by plea:
Michaela Lengyelova,31, Czech - 11 months
Svetlana Krausova, 31, Czech - 8 months
Farah Khan, 43, British - 8 months
Louise Samantha Kelly, 27, British, from Bradford - 8 months
Mohammed Yassar, 22, British, from Bradford - 8 months
Sabiha Bano Khan, 46, British, from Bradford- 8 months
Khalda Ahmed, 45, British - 7 months suspended for 1 year plus 150 hours unpaid work
Nadia Qureshi, 28, British, from Sheffield - 6 months
Published 18 January 2013