World news story
International Roma Day celebrated in Romania
This was published under the 2010 to 2015 Conservative and Liberal Democrat coalition government
British Ambassador Martin Harris visited a Roma community to better understand the challenges it faces. Find out more!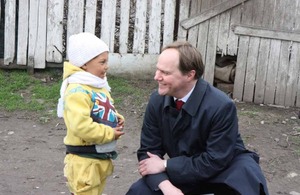 Representatives of the embassies of Austria, Finland, France, Italy, the Netherlands, Norway, Spain, Switzerland, the United Kingdom and the Representation of the European Commission to Bucharest, together with Agentia de Dezvoltare Comunitară Impreună, the Roma Education Fund and the Center for Education and Social Development, visited Frumusani village, nearby Calarasi city (center Romania) on 8 April 2013. The aim was to spend time on the International Roma Day finding out more about the situation of the Roma minority in Romania.
Frumusani is a six-village commune, 20 km from Bucharest. According to the official statistics, there are 5,420 inhabitants, out of which 1,120 are self-declared Roma ethnics.
The delegation met with the Mayor of Frumusani village, Mr. Paul Dutu, the Calarasi MP, Mr. Aurel Niculae, the Roma local councillor, Mr. Cristian Buceanu, and the representatives of the Roma community. The participants had an extensive discussion about the challenges local authorities faced in addressing the social and the economic inclusion of the Roma community. This focussed on three main issues. Firstly, education. The delegation visited the local school whose After School Club has been effective in supporting attendance at the school and the attainments of school pupils. Secondly, how to finalise property deeds for over 250 houses in the predominantly Roma community. Thirdly, there are over 150 houses that need to be connected to the public electriciy grid. The members of the diplomatic corps discussed solutions to these issues with the local authorities, teachers and members of the local community.
The Ambassadors aim to return next year on April 8 in order to see how the situation in the community had developed. The participant embassies remain committed to assist the partner central and local authorities in Romania in addressing the issue of social inclusion of minorities.
The delegation:
H.E. Martin Harris, the British Ambassador
H.E. Ulla Väistö, the Ambassador of Finland
H.E. Diego Brasioli, the Ambassador of Italy
H.E. Matthijs van Bonzel, the Ambassador of the Netherlands
H.E. Øystein Hovdkinn, the Ambassador of Norway
H.E. Jean-Hubert Lebet, the Ambassador of Switzerland
Mr. Jürgen Heissel, Minister Counsellor, Charge d'Affaires of the Embassy of Austria
Mr. Alberto Dal Degan, Deputy Head of Mission, Embassy of Italy
Mrs. Angela Loi, Segretario di Legazione, Embassy of Italy
Mr. Luis Tejero, Deputy Head of Mission, Embassy of Spain
Mr. Samuel Richard, Deuxième conseiller, Embassy of France
Mrs. Dorina-Maria Nastase, Head of the Political Section, EC Representation to Romania
Mrs. Monica Loloiu, Assistant to the Political Rapporteur, EC Representation to Romania