International response to floods in Pakistan "woefully inadequate"
The international response to the Pakistan floods has been 'woefully inadequate' and other countries must do more to help, International Development Secretary Andrew Mitchell said today.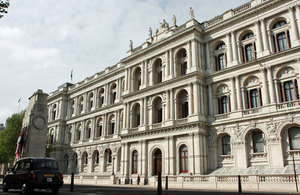 Speaking ahead of a visit to Pakistan, Mr Mitchell said many donor countries were failing to provide sufficient assistance to the millions of people affected by the crisis.
British aid is already helping 1.5 million people in Pakistan, but more needs to be done internationally in response to the UN appeal for emergency assistance for the 20 million people affected by the floods.
The International Development Secretary confirmed that he will visit the region to get a better picture of what help is needed on the ground, to see how British aid is helping the people of Pakistan, and to plan for long term recovery and reconstruction.
Mr Mitchell said:
'The international response to this disaster has been woefully inadequate. Britain and the US have been at the forefront of the emergency aid effort but, as Ban Ki-Moon has urged, other wealthy countries must step up and lend their support.
As the scale of the devastation becomes ever clearer, donor countries must accelerate their efforts. An area the size of England has so far been affected and thousands of villages have been swept away.
If the international community fails to provide immediate support, this crisis will get worse and the suffering of millions of people will intensify. We must act and act now.'
Published 19 August 2010