World news story
International PFM rating process underway in Turks and Caicos
From:

Part of:

Published:

21 January 2015
This was published under the 2010 to 2015 Conservative and Liberal Democrat coalition government
Independent assessment of the improvements made in TCI Government's public financial management systems began week commencing 19 Jan 2015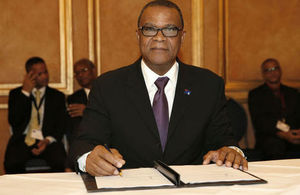 An important independent assessment of the improvements made in the Turks and Caicos Islands (TCI) Government's public financial management systems began this week, it was announced today, Wednesday, 21 January 2015.
A Public Expenditure & Financial Accountability (PEFA) assessor, John Wiggins, will assess the improvements made in the TCI's public expenditure, procurement and accountability and rate it against the country's last report in 2011. The aim of PEFA is to use a single assessment framework in all the countries in which it works allowing taxpayers and investors to be able to better gauge the effectiveness of its pubic finances. This is funded by the European Union's EDF10 programme.
The PEFA assessor will meet with the Minister of Finance and his Permanent Secretary, the Chief Financial Officer, the Clerk of the House of Assembly, as well as officials from the Treasury, Budget and Procurement Offices, plus internal and external audit, the revenue Control Unit and Customs, and the TCI Chambers of Commerce over the next two weeks.
"This assessment is an important step in our continuing work to continually develop and improve our public financial management systems," said Minister of Finance, the Hon., Washington Misick. "In addition to demonstrating to our population, businesses and investors that we are working hard to improve our public finances. Our latest assessment rating, which we will publish at the end of March 2015 will allow the TCI to be rated against other countries in an independent, internationally recognised and objective manner."
The PEFA Framework was created as a high level analytical instrument which consists of a set of 31 indicators and a supporting PFM Performance Report, providing an overview of the performance of a country's PFM system. Drawing on established international standards and codes, and other commonly recognised good practice, it forms part of the strengthened approach to supporting PFM reform, which emphasizes country-led reform, and alignment around the country strategy, and a focus on monitoring results. PEFA works in collaboration with other international development agencies, including UK Aid, and other international institutions and selected representatives from developing country governments.
Document information
Published: 21 January 2015