World news story
Human Rights Day: Message from British High Commissioner Uganda
Human Rights is a Key Priority for the UK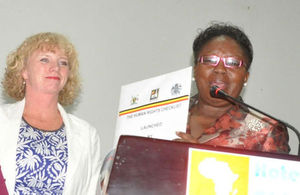 International Human Rights Day on 10 December is a day for us all to focus on what has been achieved and what more needs to be done in the area of human rights. This year is a particularly poignant time to do so, as the world mourns the death of Nelson Mandela. As the British Foreign Secretary said
His name will echo down the ages for his immense contribution to his country, to Africa and to the world, and his tireless work for peace and reconciliation.
Human rights are a key priority for the UK. We believe that human rights and good governance are essential for a country's prosperity and security. Sustainable development cannot take place when people are not able to enjoy their human rights.
The UK is pleased to have been re-elected to the UN Human Rights Council. Our priorities for our tenure will be Freedom of Religion, Business and Human Rights, UN institutional reform and the Preventing Sexual Violence Initiative (PSVI). In 2013 the Foreign Secretary launched the PSVI which aims to replace the culture of impunity with one of deterrence. The international campaign "16 Days of Activism Against Gender Violence" also ends on 10 December. More information
The British High Commission has also been focusing on important human rights issues in Uganda and discusses these issues regularly with the Government of Uganda. In 2012-2013 we have undertaken a number of projects in this area. Here are just a few examples:
Support to publish a booklet to promote understanding between public and police and increase accountability and respect for human rights.

Training to increase capacity of journalists to report on Parliament's work and particularly issues affecting human rights.

Project to increase public and parliamentary debate on the death penalty.

Support to the Human Rights Committee of Parliament to develop a checklist to ensure that legislation meets Uganda's human right commitments.

Helping victims of gender based violence to access justice in North Uganda.

Increasing the knowledge of the Ugandan Human Rights Commission in the field of business and human rights.
This work would not be possible without our partners in Uganda. We are grateful to them for their hard work, dedication and cooperation. We look forward to continuing this in 2014.
Published 10 December 2013