World news story
International Friendship Day: Photography Competition
The British Embassy Muscat is delighted to announce a competition to mark International Friendship Day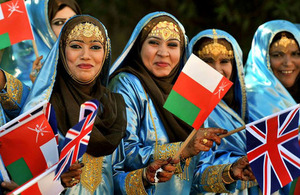 On International Friendship Day, the UK in Oman is launching a competition to search for the best images which demonstrate the friendship between the UK and Oman. We are looking for a broad range of images that are creative, positive and of good quality. These might show a personal friendship, or demonstrate an ongoing cultural link between the UK and Oman, we would love to see some of your cultural friendship pictures. From today until the 30th September 2013, you can send your pictures to us at: ukinoman@hotmail.com
Eligibility and rules
Photos must be a JPG format and a maximum of 2500 pixels wide (if landscape) or 2500 pixels high (if portrait) and a maximum size of 5Mb in JPG format. Images should be in standard RGB colour space.

You may only submit photographs that you personally took. You will be responsible for any copyright issues.

In entering, you agree to allow the FCO to use your image on FCO social media channels, without restrictions, although credit will be given where appropriate.

Email a copy of your image in JPG format (max size 5Mb) to ukinoman@hotmail.com.
Prizes
*Winner will be awarded a symbolic gift which will be handed to him/her by the British Ambassador.
*Winner photo will be publish on our social media channels.
Published 4 September 2013