Press release
International Development Secretary launches Civil Society Partnership Review
DFID's new system of central funding for civil society organisations.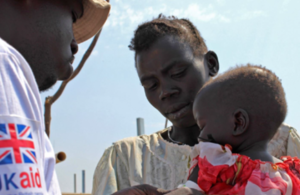 DFID's Civil Society Partnership Review (CSPR) today sets out a new system of central funding for civil society organisations.
It will simplify the system for funding civil society while ensuring it enhances existing high performing relationships and broadens the availability of support.
Announcing the new partnerships, International Development Secretary, Priti Patel, made clear the vital role that civil society plays in the UK's work to tackle extreme poverty and global challenges.
The four central funding sources are designed to incentivise good performance, catalyse innovation and partnership, and push for more efficiency, transparency and accountability. This will guarantee the best value for UK taxpayers and the most effective delivery of DFID's primary goal - eradicating poverty.
International Development Secretary Priti Patel also vowed to support civil society abroad stating that the sector is facing unprecedented pressure; from violent attacks to attempts to close down the space for democratic dialogue and debate.
She committed to standing alongside civil society against encroachments against freedom of thought, association and expression highlighting the extraordinary bravery of people who work for civil society organisations (CSOs), often at serious personal risk, in some of the world's most dangerous places.
International Development Secretary Priti Patel said:
From delivering life-saving assistance when disaster strikes, to addressing the underlying causes of deprivation, our civil society organisations are on the front line of the battle against extreme poverty.

We will work with civil society organisations so we can use their unique expertise in the most effective way to fight the scourge of poverty, protect the world from disease and instability, and create our trading partners of tomorrow.

I look forward to building upon and broadening DFID's partnerships with civil society in the future. I am also very clear that we will robustly defend the rights of civil society that are increasingly under attack in a dangerous and uncertain world. Together we will build a post-Brexit Britain that is generous, outward-looking and fully engaged on the world stage.
DFID's main funding for civil society organisations will be:
UK Aid Match - a scheme that match-funds public donations to charity appeals for projects to reduce poverty in developing countries, giving the British public a say in what international development issues are important to them. Doubling UK Aid Match is a manifesto commitment.

UK Aid Direct - providing grants to small and medium-sized civil society organisations, primarily for work to directly tackle poverty in poor communities around the world.

UK Aid Connect - a new partnership approach that will allow civil society organisations to work collaboratively, bringing together knowledge, practice and expertise for solutions to some of the most difficult development problems.

UK Aid Volunteers – which will include the manifesto commitment to triple in size the International Citizen Service (ICS) youth volunteering scheme and provide opportunities for new partnerships with volunteering agencies.
DFID will expect CSOs to be clear about the results they expect to achieve as well as the costs from the support.
The review takes on board evidence from CSOs such as the need to provide a greater leadership role to organisations based in developing countries and to recognise the diversity in the sector. In addition to these central funding opportunities, DFID will work with civil society through its network of overseas offices, ensuring DFID's work with both international and local NGOs is in line with the UK Aid Strategy and is also responding to local needs and opportunities.
Notes to editors
Information on funding rounds and applications:
DFID has launched UK Aid Direct and UK Aid Match funding rounds; proposals can be submitted until 31 January 2017. The application arrangements and detailed funding criteria are available on the DFID website.

DFID will launch a UK Aid Connect call for proposals in March 2017.

The UK Aid Volunteers approach is being developed and will be discussed with volunteering agencies.
General media queries
Follow the DFID Media office on Twitter - @DFID_Press
Published 4 November 2016