World news story
International Democracy Day celebrated in India
British High Commission celebrates Democracy Day with panel discussion and a cultural programme in New Delhi.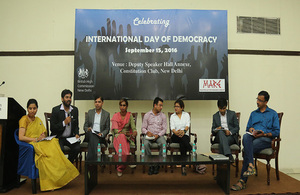 To mark the International Day of Democracy, the British High Commission in collaboration with Multiple Action Research Group (MARG), a New Delhi based NGO working on legal empowerment since 1985, organised an event in New Delhi on 15 September 2016.
In 2007 the United Nations General Assembly resolved to observe 15 September as the International Day of Democracy—with the purpose of promoting and upholding the principles of democracy—and invited all member states and organisations to commemorate the day in an appropriate manner that contributes to raising public awareness.
The preamble of the resolution affirmed that:
while democracies share common features, there is no single model of democracy and that democracy does not belong to any country or region
democracy is a universal value based on the freely-expressed will of people to determine their own political, economic, social and cultural systems, and their full participation in all aspects of life.
British Deputy High Commissioner to India, Dr. Alexander Evans said:
Democracy should not be taken for granted as it encourages open and balanced societies.
The event also included a panel discussion amongst young people from various walks of life covering issues such as values in a liberal democracy, gender issues, transgender rights and people living with HIV. A quiz on various aspects of democracy and basic knowledge a vigilant citizen in a democracy should possess was also held. The programme ended with music and dance performances by young people.
Prior to the event, MARG had called for entries to a photography contest on the themes of:
equality
diversity
access to all
democracy
60 entries were submitted for the competition, out of which 15 best photos were displayed at the event.
Further information
For media queries please contact:
Stuart Adam, Head,
Press and Communications
British High Commission, Chanakyapuri
New Delhi 110021
Tel: 44192100; Fax: 24192411

Mail to: Asad Mirza
Follow us on Twitter, Facebook, Instagram, Flickr, Storify, Eventbrite, Blogs, Foursquare, Youtube, Vine, Snapchat @UKinIndia, Periscope @UKinIndia
Published 16 September 2016