International Day for the Abolition of Slavery
On the International Day for the Abolition of Slavery the UK has re-affirmed its commitment to combating the threat of slavery at home and overseas.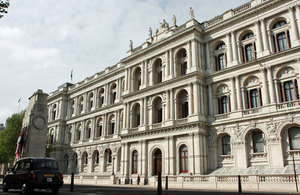 Modern slavery is difficult to detect and break as the victims are often unable or unwilling to change their own circumstances. The Government's overall aim is to make the UK a hostile environment for such activity while protecting victims and potential victims.
Modern slavery practices such as people trafficking and forced or child labour are classed as criminal activity in the UK. The Government is also working on social programmes within communities throughout the UK to increase social cohesion, tackle race inequality, poverty and provide education to children to raise awareness of these issues and prevent them from occurring.
Minister for Human Rights, Jeremy Browne said:
"Over 12 million people worldwide are still held in slavery. They are usually from the poorest and most vulnerable sections of society. It is abhorrent that slavery exists in any form. I welcome the increased attention the United Nations has given to this issue since the establishment of the Human Rights Council Special Rapporteur on Slavery in 2007.
"I applaud the work of Special Rapporteur Gulnara Shahinian's work to combat this vile practice. Her engagement with states and civil society and her commitment to highlighting slavery's modern manifestations is making a real difference. The UK will continue our financial support for the Special Rapporteur's role."
The UK Government is fully committed to combating human trafficking by focussing on enforcement and victim care. Enforcement activities are co-ordinated through the Serious Organised Crime Agency (SOCA) who have 140 liaison officers in 42 countries. Combating human trafficking is part of their remit. At home, SOCA provides support and assistance to police forces in the most complex or serious cases deploying its specialist assets and expertise. Police forces are being equipped to deal with trafficking as part of its core business.
Published 3 December 2011