International Criminal Court conference in Uganda
The UK has made three pledges to the ICC Review Conference in Kampala, underlining our commitment to international criminal justice.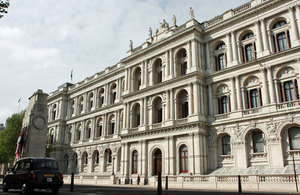 At the ICC Review Conference in Kampala, the international community has gathered to review the Rome Statute for the first time since it was first adopted in Rome in 1998. A UK delegation is currently attending the conference, which runs from 31 May-11 June.
The UK has delivered three pledges to the conference, to underline our commitment to international criminal justice. We have pledged:
"To provide the International Criminal Court with full political and practical support, in accordance with our Rome Statute obligations and our agreements signed with the Court on witness protection, sentence enforcement and information sharing; and to ensure that our national authorities comply comprehensively and effectively to requests for assistance from the organs of the Court;

"To play an active role in delivering justice to the victims of serious crimes, in particular to take measures to support the victims of sexual violence; and to seek to help victims re-establish their livelihoods, including by continuing our support for the Trust Fund for Victims; and

"To support states in their efforts to adopt relevant national legislation pertinent to their Rome Statute and wider IHL obligations; and to promote ratification and implementation of the Rome Statute within Commonwealth States, including the provision of support to revise the Commonwealth Model Law."
The conference opened on 31 May with speeches from a number of prominent leaders, including UN Secretary-General Ban Ki-moon, President Museveni of Uganda and President Kikwete of Tanzania. Chris Whomersley, the UK Head of Delegation, delivered the UK statement. The conference is considering a number of amendments to the original statute, including on the Crime of Aggression, and will undertake a stocktaking exercise on the progress of international criminal justice since the ICC was established in 2002.
Published 4 June 2010