Interim chair of the Independent Police Complaints Comission appointed
An Interim Chairman has been appointed to the Independent Police Complaints Commission, the Home Office announced today.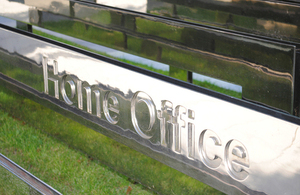 Len Jackson, a former Deputy Chairman, will act as interim Chairman of the Independent Police Complaints Commission (IPCC) pending a permanent replacement following the resignation of former Chairman, Nick Hardwick, in June 2010 to take up the post of Her Majesty's Chief Inspector of Prisons for England and Wales.
Mr Jackson has been appointed up to September 2011.
Statutory guardian
The IPCC is the statutory guardian of the police complaints system. The IPCC sets standards for the way the police handle complaints and, when something has gone wrong, seeks to help the police learn lessons and improve the way they work and has a duty to raise public confidence.
Although funded by the Home Office, it is independent of the police and government in fulfilling its remit. In April 2006, the IPCC's remit was extended to include the Serious Organised Crime Agency (SOCA) and Her Majesty's Revenue and Customs (HMRC) and in 2007, the UK Border Agency. 
All appointments are made on merit and political activity plays no part in the selection process. However, in accordance with the original Nolan recommendations, there is a requirement for appointees' political activity (if any declared) to be made public.  Mr Jackson is not politically active.  
All Commissioners, including Deputy Chairs and the Chairman are public appointments and appointed in accordance with guidance issued by the Office of the Commissioner for Public Appointments (OCPA). Mr Jackson's appointment has been approved by OCPA.
Notes to editors
Len Jackson, OBE was appointed interim Chair by HM The Queen, on the advice of the Prime Minister and the Home Secretary.  His appointment runs until 20 September 2011. He was appointed Deputy Chair of the IPCC on 1 October 2008, having previously served as an IPCC Commissioner from 1 October 2003.

The IPCC was established on 1 April 2004, replacing the Police Complaints Authority (PCA). The IPCC has wider powers than the PCA.  It has responsibilities for the police and government in fulfilling its remit. The constitution of the IPCC is set out in the Police Reform Act 2002, Part 2, Section 9. 

IPCC Commissioners cannot have held office as a constable in any part of the UK, and are not regarded as a servant or agent of the Crown, and do not enjoy any status, privilege or immunity of the Crown.

OCPA supports the work of the Commissioner for Public Appointments, a position which is independent of the Government. The current Commissioner is Mrs Janet Gaymer, CBE. The role of the Commissioner for public appointments is to regulate, monitor, report and advise on appointments made by UK Ministers and by members of the Welsh Assembly Government to the boards of around 1,100 national and regional public bodies. Some bodies within Northern Ireland also fall under Commissioner's remit.
Published 8 November 2010