News story
Interested in supplying government? We've got webinars to help
Becoming a government supplier is easier than you think and can make a big difference to your business. Take a look at our webinars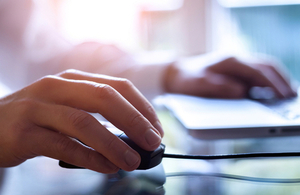 Whether you just want to learn more about supplying to government, or have written your tender and are ready to submit it, we've got a range of informative webinars to help you.
For the next 12 months, we'll be hosting a webinar a month, all hosted by leading industry experts, and giving you the best tips and advice on winning work as a government supplier.
The series kicked off on Thursday 18 August with an Introduction to becoming a government supplier, hosted by CCS's Deputy Director of Small Business Policy, Cass Chideock and our new Small Business Crown Representative, Emma Jones. The webinar covered:
What to do and what not to do to win government business
Government's overall approach to SMEs and why government wants to work with small businesses
How CCS are supporting the rest of government on the small business target
What we're doing to help small businesses succeed as government suppliers - including prompt payment and Mystery Shopper
How to get the best from Contracts Finder
Details of forthcoming webinars are below
An introduction to G-Cloud
How you can get your business on the framework
Top tips for ensuring your digital or tech services are seen by buyers
Registering for this webinar is easy and should take no more than a minute. Each webinar will be 30 minutes with time for questions and answers.
Published 5 August 2016
Last updated 17 August 2016
+ show all updates
Added another webinar for 1 September
First published.