Press release
Interactive RTI advice
Employers will be able to join live webinars on RTI hosted by HMRC experts throughout March.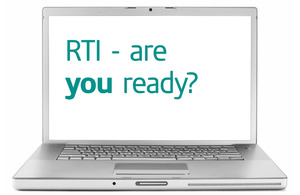 The interactive sessions last up to an hour and allow up to 500 employers and agents at a time to ask questions on RTI – the new PAYE reporting system. The webinars are free but users must register in advance.
A webinar timetable is available on the HMRC website.
RTI will be introduced from 6 April 2013, with employers reporting each time they pay their employees, rather than yearly. This updates the PAYE system so that it is quicker, easier and more accurate.
Ruth Owen, HMRC's Director General Personal Tax, said:
The webinars allow employers to participate in a live seminar and ask questions of RTI experts.

During March we are holding several RTI sessions a day so that employers can join in when it is convenient for them.
A range of support is available for employers, including:
In this YouTube video, Richard Burchell, a chiropodist with 6 employees, is already using the new RTI system and shares his experiences.
RTI pilot case study interview
More information on RTI can be found at www.hmrc.gov.uk/rti
Published 12 March 2013