Intelligence Battalion receives Freedom of Marlborough
4 Military Intelligence Battalion received the honour of the Freedom of Marlborough last week and during a parade through the town some of its members were awarded their operational medals for service in Afghanistan.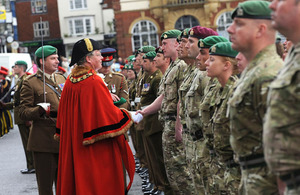 At a ceremony in the grounds of Marlborough College the battalion became the first to receive such recognition since the historic Wiltshire town was given its Royal Charter in 1204.
A parade also saw members of the battalion, which is based in Bulford, awarded their Operational Service Medals and officially welcomed back from their recent tour of Afghanistan.
The day began with more than 160 soldiers being inspected by the Mayor of Marlborough, Councillor Alexander Kirk Wilson, and the General Officer Commanding Theatre Troops, Major General Shaun Burley, in the grounds of Marlborough College.
The battalion, which was formed in September 2001, then marched behind the Light Cavalry Band to the saluting dais on the High Street where the presentation of the 'Freedom of Entry' and campaign medals to 36 soldiers was carried out.
The parade concluded with the battalion fixing bayonets and marching through Marlborough to exercise its newly-acquired freedom, to the cheers and applause of a large crowd.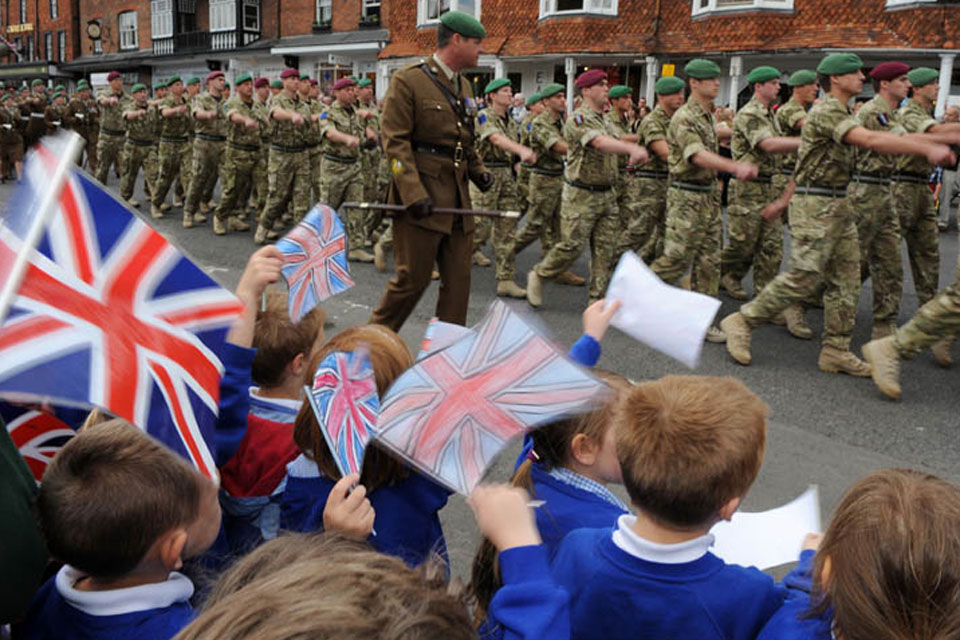 Afterwards a reception was held in the Town Hall for the Commanding Officer, Lieutenant Colonel Ben Kite, and guests, with an informal buffet taking place at Marlborough Town Football Club.
Lieutenant Colonel Kite said:
This is the first time the battalion has been awarded the freedom of anywhere, and the Intelligence Corps as a whole has got only one other Freedom of Entry, so for us this is a very special day, a very special occasion.

It cements a lot of what Marlborough has given the battalion through things like dinners for veterans, through allowing us to partake in their Remembrance Sunday and other events that have been going on over the past two years.

It is a landmark day in our relationship with Marlborough.
4 Military Intelligence Battalion provides intelligence analysts who deploy from a company patrol base back through to brigade headquarters. Their role is to try and understand the environment of Helmand, and how the Taliban and insurgents are operating.
The analysts also work to learn what the Afghan people want and what they think.
One of the soldiers, who did not wish to be named for security reasons, was delighted to have received his Afghanistan Operational Service Medal:
It is an excellent day and such an honour particularly to receive our medals in front of the people of Marlborough. I hope we have made them and the country proud.

The tour went well in Helmand and although it was long and hard, it was very rewarding and challenging and it is good to be back.

I take pride that we are in a position of responsibility and are able to provide vital information for the troops on the ground.
Published 28 June 2011