Press release
Intellectual Property Minister encourages further IP collaboration between UK and China
The ministerial visit aimed to reinforce the strength of UK-China collaboration on IP.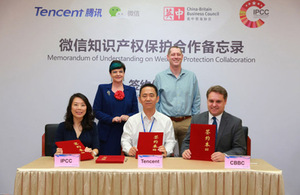 8 September 2016 (London): Baroness Neville-Rolfe, Minister of State for Energy and Intellectual Property has returned from China after leading a successful IP delegation.
The ministerial visit aimed to reinforce the strength of UK (i)-China collaboration on IP, and to highlight the important role it plays in supporting innovation and creativity in both countries.
The trip, between 20th and 27th August, took the delegation to Hong Kong (ii) , Shenzhen, Guangzhou, Xi'an and Beijing, and saw Baroness Neville-Rolfe witness a number of landmark agreements and new initiatives. Highlights included:
The Minister held meetings with a wide range of Chinese companies including Tencent, Huawei, Alibaba, and Lenovo to discuss the increasing importance of IP and brand protection, as well as British businesses operating in China who have received support through the UK IPO Attaché network including BP, the Scotch Whiskey Association and Whittards of Chelsea.
The Minister's delegation included representatives from the UK Chartered Institute of Patent Attorneys (CIPA) and the Institute of Trade Mark Attorneys (ITMA), British businesses and also the Presiding Judge of the UK Intellectual Property Enterprise Court, Richard Hacon (for the fifth annual UK-China IP judicial exchange), strengthening a wider focus on rule of law and enforcement.
Judge Hacon met senior judges at the Supreme People's Court and specialist IP courts in Guangzhou and Beijing, and discussed priority topics such as bad-faith trademarks, copyright licensing and evidence disclosure.
Baroness Neville-Rolfe, UK Minister of State for Energy and Intellectual Property, said:
It is very encouraging to see the momentous strides China is taking in the field of intellectual property. I am pleased that the UK is playing a vital advisory role and the UK's IP regime is one that other nations wish to emulate.

The IPO-SIPO (vii) relationship has gone from strength-to-strength. The engagement throughout the visit has been excellent, demonstrating the strength of our relationship with China. IP cooperation is a central part of the UK-China bilateral relationship, underpinning our mutual passion for innovation and creativity.
Catherine Wolfe – Former President of the Institute of Trade Mark Attorneys added:
ITMA, CIPA and ACID were delighted to accompany Baroness Neville-Rolfe on her visit to China. We visited Chinese patent and Trade Mark attorneys in four cities in five days to discuss Trade Marks, patents and designs in the UK and the EU and to grow our mutual understanding of IP registration and enforcement processes in China and in the UK countries. We are already looking forward to the next Symposium!

It was excellent to meet the China Trade mark Association in Beijing and ITMA is now looking forward to receiving a delegation of Chinese Trade Mark Attorneys in London, to continue the mutual collaboration on the different understandings of Trade Mark registration, opposition, and enforcement processes.
Dids Macdonald, OBE, CEO of Anti Copying in Design (ACID) & Vice Chair of the Alliance for Intellectual Property said:
Joining the delegation in Hong Kong, Shenzhen and Beijing on the 20th anniversary of UK Intellectual Property Office cooperation with China's State Intellectual Property Office demonstrated just how important it is to share best practice. Ensuring that there is consistency and continuity through bilateral collaboration and international networks reinforces the importance of IP globally. I was particularly encouraged to see Designs recognised and acknowledged for their contribution to brands and their economic growth.
Notes to Editors
i. The UK Intellectual Property Office - The UK Intellectual Property Office is responsible for Intellectual Property (IP) rights in the United Kingdom, including patents, designs, trade marks and copyright.
ii. The minister attended an IP seminar in Hong Kong, her speech can be found here: https://www.gov.uk/government/speeches/baroness-neville-rolfes-speech-at-the-ip-forum-in-hong-kong
iii. CBBC press release: http://www.cbbc.org/news/china-britain-business-council,-international-publ/
iv. Bad faith trade marks are one of the most common issues faced by British businesses in China. The guidance can be found here: https://www.gov.uk/government/publications/factsheet-on-bad-faith-trade-marks-in-china
v. The Guideline can be found here: https://www.gov.uk/government/publications/factsheet-to-support-chinese-companies-with-overseas-ip-protection-and-technology-commercialisation-chinese-language
vi. 2016 UK-China IP Symposium speech: https://www.gov.uk/government/speeches/baroness-neville-rolfe-speech-at-the-2016-uk-china-ip-symposium
vii. SIPO – the State Intellectual Property Office responsible for Patents and Designs in China Hong Kong IP speech: https://www.gov.uk/government/speeches/baroness-neville-rolfes-speech-at-the-ip-forum-in-hong-kong
Published 8 September 2016