World news story
"insula Albionum" – UK Chevening scholarship exhibition and application cycle opening
UK Chevening scholarship exhibition and application cycle opening in Namibia.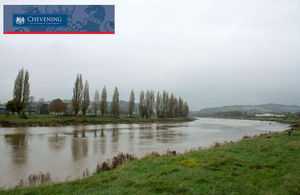 On the occasion of the opening of this year's British Government scholarship programme Chevening, the British High Commission Windhoek and Jaguar Land Rover Windhoek opened a Chevening photo exhibition insula Albionum by scholarship beneficiary Marita van Rooyen on Tuesday. The exhibition runs from 28 July to 11 August at Jaguar Land Rover Showroom at Novel Motors Namibia.
The photographic exhibition, titled "insula Albionum", showcases aspects of life during a one-year Chevening scholarship at a British university. Artist Marita van Rooyen returned at the end of 2014 from studying Documentary Photography at the University of Wales as a Chevening scholar.
HE Mrs Marianne Young, British High Commissioner to Namibia, while opening the exhibition, highlighted that the applications for 2016/17, would open online on 03 August under www.chevening.org.
HE Mrs Young said "This is a wonderful opportunity to see the UK through the eyes of a talented young Namibian, who has benefited from this educational opportunity in the UK. Strengthening such links and investing in future Namibian leadership can only enrich and benefit out two great nations."
See the full speech here: Speech by HE Marianne Young on occasion of Chevening Exhibition Opening (MS Word Document, 29.5KB)
Chevening is the UK government's global scholarship programme, funded by the Foreign & Commonwealth Office (FCO) and partner organisations. The programme makes awards to outstanding scholars with leadership potential from around the world to study fully funded postgraduate courses at UK universities.
Awards in Namibia are typically for a one-year Master's degree, with priority given to those who wish to study in the areas: Trade, Human Rights, Governance, Media and Climate Change at any of the UK's leading universities. More about the Chevening Scholarship programme can be found here.
Published 30 July 2015