Inspiring young people in the UK and Anguilla
Foreign Office Minister Henry Bellingham has welcomed Olympic long-jumper Shara Proctor to the Foreign and Commonwealth Office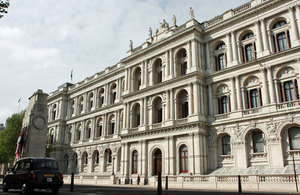 Speaking after his meeting with Shara Proctor, Henry Bellingham, Minister for the Overseas Territories, said:
"It was a great pleasure for me to welcome Shara Proctor to the Foreign and Commonwealth Office today to congratulate her on reaching the Olympic final in the women's long jump. Shara Proctor's achievement is a success for both the UK and for Anguilla, the British Overseas Territory where she was born and brought up. Because Anguilla does not have its own Olympic Committee, Shara competes for Team GB - and we are very proud to have her.
"Shara Proctor made her debut representing Great Britain at the European Team Championships in June 2011. Since then she has gone from strength to strength, winning bronze in the IAAF World Indoor Athletics Championships and setting new British indoor and outdoor long-jump records. Although Shara is only 23, she has already jumped further than any other long-jumper representing the UK. I am confident she will jump further yet, and I know that her experiences at the London Olympics will stand her in good stead for future international success including, I hope, at the Rio Olympics in 2016.
"Britain's ties with Anguilla go back several centuries and most Anguillians, like Shara, are British nationals. We enjoy a good relationship with the Government of Anguilla, and I look forward to meeting the Chief Minister again later this year to discuss the implementation of the UK's White Paper on the Overseas Territories 'Security, Success and Sustainability', which seeks to foster even stronger links with and support for the Territories.
"In the meantime, I hope the people of both Anguilla and the UK will continue to celebrate the accomplishments already made by Shara, and I'm confident that her achievements will inspire young people in the UK and in Anguilla to take up athletics and other sports."
Published 10 August 2012