World news story
Innovative researchers: from desk to market
Funded by the Newton Fund and developed by the Royal Academy of Engineering, the Leaders in Innovation Fellowships (LIF) programme builds expertise and confidence for researchers in partner countries, including Vietnam to bring their innovation to the market.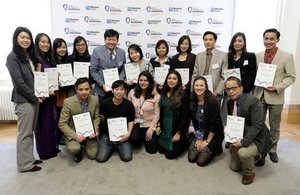 Each year, Vietnam spares thousands of billion Dongs on research and development. However, from research to commercialisation of a product, there remains a considerable gap.
To help tackle this, the Leaders in Innovation Fellowships (LIF) programme, designed by the Royal Academy of Engineering (RAEng) under the Newton Fund, was created to build expertise, confidence, and skillset for researchers in partner countries to bring their innovation to the market.
Under the 4th year of the programme, in collaboration with the Vietnamese delivery partner, National Agency for Technology Entrepreneurship and Commercialisation (NATEC), 13 Vietnamese researchers with noteworthy innovations were selected to join a two-week focused training in London from 4th to 15th December 2017. They joined the programme together with cohorts from Malaysia and Mexico. The short term aim is to develop a commercialisation plan for their innovation. Beyond this, for at least six months they benefit from on-going support on many different levels, through remote mentoring with UK Coaches, at their home institution, and with access to international network of peer innovators and mentors, to take their commercialisation plan forward.
During the "Friendly, gentle, intensive" training, LIF fellows immersed themselves in various topics to build their knowledge on marketing and business modelling while picking up pitching and negotiation skills. The course employed a wide range of flexible teaching methods involving numerous creative tools (pictures, canvas for drawing, and even case studies using casino chips) to help participants easily absorb new knowledge and skills.
Each fellow was matched with an expert coach who worked closely with them during the course and will continue in the follow-on phase of the programme. The coaches and trainers are all experienced experts in their fields, with extensive UK and international networks, coming from University of Oxford's Global Innovation Consultancy- Oxentia, leading universities, research institutes, technology corporate, venture capital funds, and consulting firms.
At the end of the course, each Fellow developed their own business plan and pitch decks which were then presented at a final competitive pitch session to a panel of expert judges, including senior Academy Fellows. The session was assessed as a comparable simulation of delivering a business pitch with the right setting and even real stress, forcing participants to utilise all the knowledge and skills they have learnt, to impress the panel of judges.
By completing the course, all participants in the LIF programme also automatically joined an international network of innovators and mentors clustered around the Academy's Enterprise Hub, opening doors into a global network of valuable contacts and potential sources of advice, collaboration, and investment from the UK.
Vietnamese cohort to the programme shared:
An important part from this is that we can learn thoroughly about business and how to plan our business plan better. Coaches are also helping us to communicate with the UK contacts that have been running business cases similar to what we are doing. This helps to build a good network for our future development.
Dr. Tim Hart, LIF Trainer and Programme Coordinator, Oxentia remarked:
The LIF multi-country cohort run programme builds into a unique and rich experiential training programme in technology commercialisation. The follow-on support and membership of a global innovation community provides further customised training, knowledge sharing and access to world leading networks. The programme is very practically focused and the Fellows get opportunities throughout their time with us to apply their new knowledge to their own projects and challenge their assumptions. The LIF programme, however, continues to evolve and we always take the opportunity to listen and learn from feedbacks of the Fellows to improve our value and impact year after year.
The next call for LIF programme is expected to be opened in summer 2018 for Vietnam.
About the Newton Fund
The Newton Fund builds research and innovation partnerships with 18 partner countries to support their economic development and social welfare, and to develop their research and innovation capacity for long-term sustainable growth. It has a total UK Government investment of £735 million up until 2021, with matched resources from the partner countries. The Newton Fund is managed by the UK Department for Business, Energy and Industrial Strategy (BEIS), and delivered through 15 UK delivery partners.
The Leaders in Innovation Fellowships (LIF) is a programme under the framework of the Newton Fund.
For further information visit the Newton Fund website and follow via Twitter: @NewtonFund.
About the Royal Academy of Engineering
The Royal Academy of Engineering (RAEng or "The Academy") is one of the UK's national Academies that provides leadership and promotes excellence across all fields of engineering. The Academy offers a unique combination of expertise, excellence and independence through its respective fellowships, funding schemes, bilateral relations, membership of global and regional networks of academies and other international organisations.
For further information visit the RAEng website.
List of 13 proud members from Vietnam to the 2017 LIF Programme in London
Ms. Duong Huong Quynh, Vietnam Academy of Science and Technology, "Ecosensitive botanical pesticide for safe food production and sustainable farming"

Dr. Dao Thi Nhung, University of Science Hanoi, "Application of innovative preservation technologies for freshly harvested agricultural products with small and medium scale in Vietnam"

Mr. Dinh Duc Hung, Hanoi Institute of Technology Corp., "Electronic Healthcare System (EHS)"

Dr. Ho Le Thi, Cuu Long Delta Rice Research Institute, "Use of N-trans-Cinnamoyltyramine (NTCT) for Weed Control in Direct Seeded Rice"

Dr. Le Quoc Trung, International University - Vietnam National University Ho Chi Minh city, "Device for the monitoring and forecasting of obstructive sleep apnea (OSA) and atrial fibrillation (AF) onset"

Dr. Ngo Tat Trung, 108 Central Hospital, "Enrichment of bacterial DNA for the diagnosis of blood stream infections"

Dr. Nguyen Thi Van Anh, National Institute of Hygiene and Epidemiology, "A kit for for rapid detection of drug resistant tuberculosis"

Ms. Nguyen Thu Hong, Vietnam Academy of Science and Technology, "Myosin, gelling technique and organic fish cake: Dreaming about fresh and nutritious fish cakes for Vietnamese people"

Mr. Pham Ngoc Anh Tung, UFOTECHNOLOGY (DEMETER), "Internet monitoring and control systems 4.0 in Agriculture"

Dr. Phan Tien Dung, Vietnam Academy of Science and Technology, "The new generation tellurite glass for white LED application"

Dr. Tran Ngoc Minh Quyen, International University, Vietnam National University Ho Chi Minh city, "The enhancement of garbage composting process by using the useful microorganisms and innovative composting machine"

Dr. Truong Quoc Phong, Hanoi University of Science and Technology, "The rotavirus rapid test strips (BK-Rota) and the procedure for producing this test strips & CoQ10 producing recombinant Agrobacterium tumefaciens DPXS12 strain and procedure for creating this strain"

Dr. Vu Thi Thu Huong, National Institute of Hygiene and Epidemiology, "Rapid and sensitive PCR-Dipstick Chromatography for C. Difficile detection"
Published 27 February 2018