Press release
Innovative genetic treatment to prevent mitochondrial disease
Public consultation expected on draft regulations for IVF-based techniques to prevent mitochondrial disease later this year.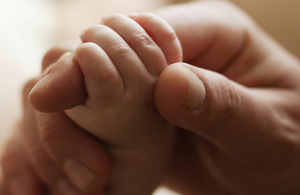 Innovative IVF-based techniques could be made available to patients to help prevent serious mitochondrial disease in the UK, Chief Medical Officer Professor Dame Sally Davies announced today.
One in 6,500 babies is born with mitochondrial disorder which can lead to serious problems such as heart and liver disease and respiratory problems. It can even lead to death in infants. Around 12,000 people in the UK live with these conditions, which are passed on from mother to baby but can be prevented using cutting edge mitochondrial replacement techniques. Currently, only unaltered sperms and eggs are allowed to be used for assisted reproduction treatments.
Following a public consultation in which there was overall support for the treatment, which could save around 10 lives each year, the decision was taken to publish draft regulations later this year in a further public consultation. The regulations, which would be subject to strict safeguards, would make the UK the first country in the world to give patients the option of using the ground-breaking IVF-based treatment.
Mitochondria replacement involves transferring nuclear genetic material from a mother's egg or embryo into a donor egg or embryo that has had its nuclear DNA removed so the embryo does not inherit the mitochondrial disease. This would allow a woman carrying mitochondrial diseases to have healthy children.
Mitochondria are the tiny biological power packs that give energy to nearly every cell of the body. Defects can leave the body cells starved of energy, resulting in muscle weakness, blindness, heart failure and death in the most extreme cases.
Watch this video, commissioned by the Human Fertilisation and Embryology Authority (HFEA), which explains more about mitochondrial disease and mitochondrial transfer.
In anticipation of emerging advances in this field, in 2008 Parliament passed an amendment to the Human Fertilisation and Embryology Act to introduce a regulating making power that, if introduced, would enable mitochondria replacement to take place in treatment. The first assessment of the safety and efficacy of mitochondria replacement was carried out in April 2011 by the HFEA.
The decision to consult on regulations to allow the controversial technique comes after an extensive consultation and public dialogue carried out by the HFEA between June and December 2012. The public consultation exercise indicated that, overall, there was general support for mitochondria replacement to take place, subject to strict safeguards and careful regulation.
Chief Medical Officer Professor Dame Sally Davies said:
Mitochondrial disease, including heart disease, liver disease, loss of muscle co-ordination and other serious conditions like muscular dystrophy, can have a devastating impact on the people who inherit it. People who have it live with debilitating illness, and women who are affected face passing it on to their children.

Scientists have developed ground-breaking new procedures which could stop these diseases being passed on, bringing hope to many families seeking to prevent their future children inheriting them. It's only right that we look to introduce this life-saving treatment as soon as we can.
The draft regulations will be issued for consultation later this year. The government intends to introduce a final version for debate in Parliament next year.
Published 28 June 2013