Innovative Defence kit showcased during National Science and Engineering Week
A new form of armoured netting which can stop rocket-propelled grenades damaging vehicles was one of the items showcased at an event to mark National Science and Engineering Week.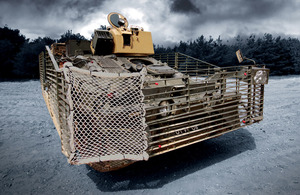 Tarian QuickShield netting, which is similar in appearance to a string vest, was among several innovations displayed in London today which have been created by MOD scientists from the Defence Science and Technology Laboratory (Dstl) and members of the defence industry.
The event gave an insight into current technologies being deployed in support of our Armed Forces and a forward look at the scientific innovations which may one day add to the current impressive range of tools which give military personnel a battle-winning edge.
Tarian QuickShield is a lightweight net or 'band aid for bar armour', strong enough to protect against rocket-propelled grenades, which will be used to rapidly replace damaged bar armour on military vehicles in the field.
Stowed in the vehicle, the netting can be fitted immediately without any tools. It is due to be delivered to Afghanistan next month as part of a £2.6m contract.
As well as the netting, a pioneering approach to tackling the problem of 'helicopter brownout', where a pilot loses visual references due to dust or sand, was also showcased.
The kit uses a small, helmet-mounted display to provide a virtual 3D representation of the landing zone that stays fixed to the earth and helps the pilot to land safely.
During his visit to the event, Minister for Defence Equipment, Support and Technology, Peter Luff, confirmed that the budget for Defence Science and Technology would rise in cash terms over the Comprehensive Spending Review period. He said:
Scientists, engineers and inventors are often behind novel solutions to defence and security needs. This funding demonstrates our commitment to helping them develop innovative and cutting-edge ideas to help improve and protect the lives of the Armed Forces.
I have been impressed with the technology on show today and that's why protecting this funding has been so important to me. But don't get me wrong, after the way the science budget has been slashed in recent years, we should be aiming to increase investment as soon as we can.
Rear Admiral Rees Ward (Rtd), Chief Executive Officer of Aerospace, Defence and Security, and Secretary of the Defence Industries Council, said:
This event provides an important opportunity for the Ministry of Defence and the industry to showcase their joint efforts in providing the best possible equipment to our Armed Forces both now and in the future.
Maintaining a technological advantage is crucial and is only achieved through continuing investment in research and technology and through close co-operation between industry and Government.
As we look at the equipment of the future, it seems fitting that this event should take place as part of National Science and Engineering Week with its focus on education and encouraging the engineers and scientists of tomorrow to make a difference in support of our troops.
Published 18 March 2011