Innovative battery system lightens the load for troops on ops
Commanders in Afghanistan issued a plea for the weight of essential power sources for radios and other communications equipment used on front…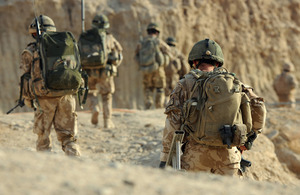 Commanders in Afghanistan issued a plea for the weight of essential power sources for radios and other communications equipment used on front line patrols to be reduced.
And, just months later, a team of energy experts at Defence Equipment and Support (DE&S) and the Integrated Soldier Systems Executive (ISSE) at Abbey Wood have come up with an ingenious solution tailor-made for operations.
The Soldier Portable Charger (SPC) harvests energy from used batteries, solar panels and even vehicles and transfers it into a soldier's spares.
While the weight savings may seem minor given that each battery weighs 3.75kg at most, the Urgent Operational Requirement's (UOR's) value is clear if you consider the bulk carried over lengthy missions.
Rather than only having to carry one unit, an eight-man section taking part in a 40-hour patrol currently has to contend with a hefty 60kg burden in batteries alone:
A major factor in developing this UOR was the weight in batteries required during that 40-hour mission," explained project manager Peter Flowers. "That's a ridiculous amount to be added just for power supplies, so we sat down last autumn and worked out how we could do something about it.

One of the things we discovered was that [the batteries] were saying they were empty even though they may have had between ten and 20 per cent power remaining.

The SPC takes that energy out and transfers it to another type of battery. That means that if you take rechargeable batteries, you only need one on the radio and one on charge and you can then take four of each type off the patrol.
The ability to charge batteries on the hoof is made a simple task thanks to the system's versatility.
During daylight hours a solar mat - which is no larger than a piece of A4 paper when folded and only one square metre when deployed - can be hooked up to the SPC unit along with the battery that needs charging and the power begins to transfer.
Energy can also be scavenged from vehicles such as tractors using the same plug-and-play method.
In addition, the ISSE team has created a portable charger that sits in the trunk of a quad bike to provide another option for portable power:
We don't know how much energy it will save because it is mission-dependent," explained Mr Flowers. "But if you have an engine running, why not do something with it?
As well as tackling the problem of providing all-important energy, the UOR has done battle with the weight of the batteries themselves.
At present, the only unit used for larger equipment on patrol is the lithium ion power source (LIPS) 10, which provides six hours of juice in a 3.75kg block.
Although the units are useful for longer missions, their large capacity adds needless weight to shorter patrols, so the DE&S experts have developed LIPS 11 and LIPS 12 batteries which weigh 1.5kg and 2.25kg and provide enough power for two and four hours respectively:
We have effectively taken the LIPS 10 and chopped it into thirds," explained Mr Flowers.

You can now take the lower-power battery if you need it. We're not dictating to commanders on the ground what they should use, we're just putting the right clubs in their bag.
A total of 4,556 units are being deployed to Op HERRICK, with the first 1,000 arriving in theatre this month and the remainder being delivered in batches in August and September 2010.
Each kit comes with an instruction sheet and the UOR has been handed to the Operational Training and Advisory Group to allow soldiers to practise using it during pre-deployment training.
_This article is taken from the July 2010 edition of SOLDIER - Magazine of the British Army. _
Published 9 July 2010