World news story
Innovative Afghan businesses receive UK aid grants
This was published under the 2010 to 2015 Conservative and Liberal Democrat coalition government
Fourteen businesses from across Afghanistan have received grants totalling £2.5 million through the Afghanistan Business Innovation Fund.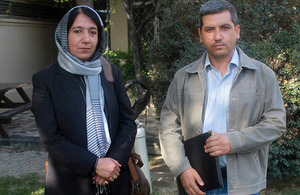 Fourteen businesses from across Afghanistan have received grants totalling £2.5 million of UK aid through the Afghanistan Business Innovation Fund (ABIF). The grants will support new investment projects enabling recipients to expand their activities in Afghanistan, which will in turn create jobs and help the local economy.
At a ceremony held at the British Embassy in Kabul, Afghan formal grant agreements were signed. The grants were awarded to carpet, furniture, healthcare, horticulture, livestock and mining businesses.
Speaking at the event, British Ambassador, Sir Richard Stagg said:
Private sector development is key to the future prosperity of Afghanistan. ABIF support ensures that businesses have the potential to transform markets for the benefit of Afghan consumers, producers and workers.
This is another example of how the UK is working hard to support Afghanistan's long-term prosperity and development.
The UK's Department for International Development (DFID) Afghanistan Head of Office, Mark Mallalieu, said:
This programme will make a big difference to businesses all over Afghanistan. Helping Afghan businesses grow will contribute towards economic self-sufficiency and improve employment opportunities for a workforce that sees 400,000 new entrants every year.
Welcoming the grant announcements, one of the recipients, Dr Rokai Rauofi, said:
We are very happy to be one of the round two applicants who succeeded in securing a grant. Our project is the development of histopathology services (cancer detection and diagnosis) and biomedical equipment maintenance services in Mazar-e-Sharif.
With the ABIF grant, and our own contribution, we are developing a histopathology lab, meaning we will be able to diagnose cancer here in Afghanistan. Our people will no longer have to go abroad for cancer diagnose and pay huge bills.
The UK, through DFID, is providing long-term support to Afghanistan and is committed to assisting the development of the private sector by working with Afghan businesses, supporting to the Ministry of Commerce & Industries and the Ministry of Mines & Petroleum, and through the Afghanistan Infrastructure Trust Fund.
All of the 14 programmes being funded will provide the private sector with increased opportunities to invest in Afghanistan; to provide jobs for Afghans; and to contribute to increased economic activity with associated growth in tax revenues.
ABIF is a private sector investment challenge fund, funded by DFID (with support from the Australian Government). In the previous round of grants, commitments of approximately £1.5 million were made to seven grantees in the horticulture, livestock, furniture, pharmacy and textile sectors.
Notes to editors
The first round of funding helped eight businesses across Afghanistan. Two case studies from the first funding round are listed below.
786 Pharmaceutical chain
The first of 20 branches of Afghanistan's first branded pharmacy chain – the 786 Pharmacy - recently opened in Kabul. The 786 Pharmacy provides a trusted source of medicines targeted at those most in need.
The owner of 786 Pharmacy, Al Hadi Ltd, was the recipient of a grant from the Afghanistan Business Innovation Fund (ABIF) to establish pharmacies near to public hospitals where demand is high.
In addition, a product verification service using mobile phone technology is now being tested and will be established in the 786 Pharmacies. Counterfeit medicines, which can be very dangerous, are a big problem in Afghanistan.
"Black Gold" in Herat
Herati Cashmere and Skin Processing (HCS) was established in 1999. The company, based in the city of Herat in western Afghanistan, processes and exports the region's fine local cashmere. Over the last decade, domestic and international demand for what those in the business call "black gold" has been steadily increasing.
With help from a grant from the Afghanistan Business Innovation Fund (ABIF), HCS is working hard to meet this new demand, expand its operations and find new markets overseas.
HCS's ABIF grant has allowed it to invest in new machinery, increasing the speed and quality of processing. It has also helped establish rural cashmere collection centres, which enable remote cashmere producers to access markets. In addition, the factory has been able to partner with the Dutch Committee for Afghanistan, which provides training to goat herders on how to better produce, analyse and harvest the raw wool, ultimately increasing the value of the cashmere they sell to traders and processors like HCS.
These innovations, among others, mean that HCS is now able to export to the USA, Italy and China. As the number of orders has increased, so has the number of people the factory employs; creating local jobs and generating new business for headers and associated businesses.
About DFID
DFID works closely with the international community and other partners to support the development of Afghan security, governance, infrastructure, economy and the provision of essential services. It has agreed to provide £178 million of development funding every year until at least 2017.
For further information please contact
Emily Poyser, Head of Press, DFID Afghanistan
Email: e-poyser@dfid.gov.uk
To find out more about ABIF, visit: www.imurabba.org
Document information
Published: 7 October 2013