News story
Innovation to drive cuts in Carbon Capture and Storage costs
The winners of an £20m competition for innovative projects to reduce the cost of Carbon Capture and Storage (CCS) development were announced…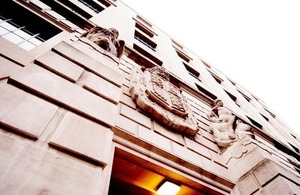 The winners of an £20m competition for innovative projects to reduce the cost of Carbon Capture and Storage (CCS) development were announced today.  
Universities and world leading energy and technology companies at the cutting edge of CCS research are among the 13 projects that have been awarded the money from the UK's CCS £125m research and development fund. CCS technology, if developed at scale, could allow the safe removal and storage of carbon emissions from coal and gas plants.
Winning projects include NET Power which is working with Stoke based Goodwins and Toshiba to develop high pressure turbines, and Millennium Generation, which is building a 3MWe carbon capture pilot plant in Stainforth, Doncaster.
Grants worth £18.3million have been agreed so far, which will leverage an additional £18m from project participants.
Today's announcement comes as:
The Carbon Capture and Storage Cost Reduction Task Force publishes an interim report confirming that Carbon Capture and Storage has the potential to compete with other low carbon forms of energy by the 2020s.
The UK CCS Research Centre announces a further £1.8m government funding for 13 projects, involving 14 different universities, to fund research needs set out in the DECC CCS Roadmap. 
Secretary of State for Energy and Climate Change Edward Davey said:
"These announcements help maintain the UK's place leading the world in CCS and delivering an affordable and secure low carbon energy mix.
"Carbon Capture and Storage is a huge opportunity for our world class research industry. Through the projects we have selected, pioneering companies and universities will be able to create new jobs and expand their markets.
"The UK's clear commitment to CCS is underlined by innovative companies like Carbon Clean Solutions choosing the UK as their global technology hub and NET Power and Toshiba choosing British manufacturer Goodwins for its world leading expertise."
The 13 successful projects under the DECC £20m CCS Innovation competition are:
Econic Technologies - an SME university spin out working with Imperial College to develop CO2 based, rather than oil based, plastics.  [£103,000 grant].
CCm Research - an SME working with the Royal Agricultural College to develop fertiliser using plant derived material combined with CO2 captured from power stations. [£79,000 grant].
Carbon Sequestration  - an SME working with Sheffield University. Perlemax Limited, and Viridor Waste Management to create high-value chemicals from CO2 using novel algae and high-efficiency bioreactor technology  [£79,000 grant].
ITM Power - the energy storage and clean fuel company working with Scotia Gas Networks, SSE, Logan Energy and Kiwa GASTEC to develop the use of hydrogen, made from renewable energy, to turn CO2 into synthetic methane.  Initial applications could use CO2 from whiskey distilleries [£100,000 grant].
Interconnector UK - working with Heriot-Watt University to develop more accurate CO2 meters [£85,000 grant].
Costain  - working with Edinburgh University to develop a new, cheaper absorber design to help carbon capture [£156,000 grant].
Costain - working with Edinburgh University and University of Leeds to develop an improved oxyfuel capture technology [£192,000 grant].
Cambridge University - working with Shell, Manchester University and the British Geological Survey to develop a new scientific model for CO2 storage using data from Shell's scientific drilling site in Utah [£735,000 grant].
Future Environmental Technologies (FET) - a Bristol based SME working with Solutia UK Ltd, Hoare Lea & Partners, DB Core Systems Ltd and Malvern Executive Ltd to build a pilot facility which will capture CO2 from a Combined Heat and Power plant at Solutia's Newport factory using the FET developed "Carbon Water eXchange (CWx)" capture technology [£2m grant].
Premier Oil - working with Durham University, University of Sheffield, Bath University, Newcastle University, Cleveland Potash and STFC Rutherford Appleton Laboratory to develop a new CO2 monitoring technology which will be tested at the Boulby mine and laboratory in Yorkshire [£647,000 grant].
NET Power - a US company taking forward a British invented low carbon power generation technology, is working with Stoke-based Goodwins - one of the 10 oldest companies listed on the stock exchange - and Toshiba to develop high-pressure turbines. These new turbines will be exported to the US for NetPower's proposed 25MWe pilot plant [£4.98m grant].
Millennium Generation - working with Calix, HEL East and Imperial College to build a 3MWe pilot plant at Stainforth, Doncaster using Calix's Endex capture technology [£5.8m grant].
Carbon Clean Solutions - an SME establishing a new technology hub in UK, working with Imperial College and the UK CCS Research Centre's Carbon Capture Pilot Scale Advanced Capture Technologies facility at Beighton, Sheffield to develop new solvents for use in CCS systems.  [£3.35m grant].  
---
Notes for editors:
A further project is under final negotiations.  Details will be announced once these have been concluded.
The UK CCS Research Centre is part of the Research Councils UK Energy Programme which is led by the Engineering and Physical Sciences Research Council (EPSRC). The Energy Programme is investing more than £625 million in research and skills to pioneer a low carbon future.  This builds on an investment of £839 million over the past eight years. The Energy Programme brings together the work of EPSRC and that of the Biotechnology and Biological Sciences Research Council, the Economic and Social Research Council, the Natural Environment Research Council, and the Science and Technology Facilities Council.  For more information on the UK CCS Research Centre, and their £1.8m for CCS research projects, please visit their website. 
A R&D Showcase conference for CCS researchers and entrepreneurs is planned in London, 20-21 February 2013, to enable networking between the many different projects and organisations involved in the 4-year, £125m UK CCS R&D Programme. Further information is available on their website.  
The CCS £125m research and development innovation competition is aimed at developing new technology at small scale and is separate to the UK's £1billion CCS competition, which aims to develop CCS technology at commercial scale. 
The Government announced on 30 October that four bidders have been short listed for the next phase of the competition.  The four were selected from eight bids received after a thorough evaluation process that considered project deliverability, value for money, and the Government's timetable to deliver a cost-competitive CCS industry in the 2020s. The successful projects are now being invited to take part in a period of intensive commercial negotiations with Government before decisions on which projects to support further are taken in the new year.
Published 21 November 2012