Innovation is GREAT Exhibition to showcase the latest innovative products from the UK at T-Site in Daikanyama
In celebration of HRH The Duke of Cambridge's visit to Japan, a wide range of innovative British products will be displayed from 27 February to 4 March at DAIKANYAMA TSUTAYA BOOKS (T-Site) - a stylish bookstore designed by a British architect.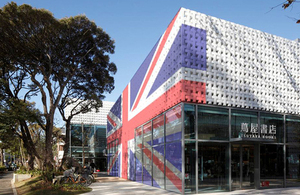 The exhibition will give a rare opportunity to showcase a variety of innovative British products, ranging from those yet to be launched in Japan to some of the well-knowns. The products include a bespoke active wheelchair with shock-absorbing wheels with integral suspension, a revolutionary prosthetic foot/ankle system with microprocessor-controlled speed and terrain response, an electronic musical instrument for a new generation of musicians, and a cute and full-scaled yet reasonably priced humanoid robot kit.
Also part of this exclusive exhibition will be the Aston Martin Rapide S, which will be displayed outside the bookstore. The car has been specially tailored and produced for the GREAT British concept by Aston Martin's bespoke customisation division Q by Aston Martin.
The bookstore's buildings will be wrapped up in Innovation is GREAT-themed projection mapping by Mark Dytham, the British architect who designed the DAIKANYAMA T-Site buildings.
To coincide with Innovation is GREAT, DAIKANYAMA TSUTAYA BOOKSTORES will hold "Great British Days" from 20 February to 16 March, featuring UK-related books in every genre including humanities, magazines, fashion, art, architecture, automobiles, culinary, travel, stationery, music and film.
Innovation is GREAT is a year-long campaign by the British Government to promote further partnership between the UK and Japan by showcasing and stimulating bilateral business, research and education collaborations that tackle global problems and improve lives through innovation. We hope this campaign will inspire you to work with us to invent, explore and succeed.
Link:
Published 20 February 2015